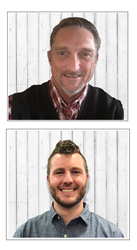 AUSTIN, Texas (PRWEB) April 03, 2018
Illumitex continues to build on the success of 2017 and 2018 by the addition of two team members to the sales staff. The addition of these team members brings years of lighting and CEA operations experience. The expanded team will allow Illumitex to exceed market need as the demand for quality LED grow lights increases.
"Our growth has exceeded expectations and is allowing us to accelerate our hiring plans. Brad and Rick add years of valuable experience to build our business and support our growing customer base".
Rick Welsh joined the team in February and will be servicing the western US (Washington, Oregon, and California), British Columbia and Alberta. Rick brings 27 years of lighting experience including being a founding member EcoSense Lighting and was an integral part of their extraordinary growth. His knowledge of LED adoption and functionality gives him a unique perspective for the horticulture community.
Brad Hull joined the team at the beginning of March and will service the Midwest Region of the US. Brad brings both an engineering and business background, along with over 7 years of designing, planning, and constructing high-tech controlled environment agriculture (CEA) facilities, especially greenhouses. His extensive knowledge of commercial hydroponic operations allows him to intimately understand what role LED grow lights can play in your CEA operation.
This expanded team will play an integral role in accelerating Illumitex's market leadership that goes into the development of to create the best-in-class LED Horticulture grow lighting systems.
Media Contact
Staci Young
512.279.5032
Info@illumitex.com
About Illumitex, Inc
Founded in 2005 in Austin, Texas, Illumitex works diligently to create industry-shifting achievements in horticultural lighting. Our team of horticulture scientist and engineers have radically transformed LED lighting that influences plant benefits. Illumitex is enthusiastically committed to scientific research, cutting-edge design, and innovative engineering. We are dedicated to working with our customer to deliver world-class horticulture solutions while pushing lighting into the digital age with automated tools and services.