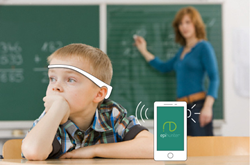 Today's digital technologies enable us to build solutions that can strongly improve the daily lives of people with epilepsy.
Hasselt, Belgium (PRWEB) March 19, 2018
Epihunter, the revolutionary new digital solution that makes silent epileptic seizures visible, is live on global crowdfunding platform Indiegogo. It is raising funds to bring the project to life.
"'Dad can you create a light that turns on when my brain switches off?' With this question on March 15, 2015 during our bedtime-ritual with my son, my life took a new direction," says co-founder and CEO Tim Buckinx. "Private and professional became one. Suddenly all that had foregone seemed only a preparation for this moment."
Motor seizures are very visible by their muscle and body movements. Absence seizures - also called non-motor seizures or "petits-mals" - are much more difficult to notice for the outside observer. The person involved will simply stare, react in slow motion and stop movements. Seizures can last from a few seconds to several minutes. This makes it challenging for parents to report seizure frequency to medical professionals. Moreover, it can be especially tough in the classroom, both for the child and teacher.
Epihunter meets this challenge. Utilizing consumer EEG headsets and a proprietary app to alert teachers of epileptic absence seizures in the classroom. This way, Epihunter builds digital solutions to help normalize the daily life of people with epilepsy. It aims to facilitate observers to note exactly what is happening and hence hopes to avoid misunderstandings for those that don't fully understand what is happening.
Epihunter Classroom uses slim and nicely designed consumer headsets to send brain activity to a smartphone on the child's desk. The innovative proprietary Epihunter Classroom app analyses the data and turns on the light of the smartphone when an absence seizure occurs. Secure online reports provide parents with objective information on seizure occurrence and frequency. The gain is triple. The child gains confidence, teachers know what content or which instructions to repeat, and parents are reassured that seizures do not remain unnoticed anymore.
"Today's digital technologies enable us to build solutions that can strongly improve the daily lives of people with epilepsy. This change can have a similar impact as eye glasses have for nearsighted people. Following the introduction of Epihunter Classroom we will expand similar smart connected solutions for people of all ages with all types of epilepsy," adds Buckinx
Epihunter Classroom is currently live on Indiegogo and can be backed with a pre-order or a contribution starting from $35. Visit igg.me/at/epihunter-classroom.
About Epihunter
Epihunter is a Belgian SME. It was founded in 2017, and is currently securing a €500k capital round. It is run by Tim Buckinx, Niki Driessen and Dirk Loeckx. Tim, CEO, has more than 10 years of global digital leadership experience in consumer electronics and is father of child with epilepsy. Niki, CTO, has more than 15 years of experience as Software/Solution Architect in Digital, e-Comm, Big Data & Analytics and IoT and has more than 8 years of experience in software delivery management. Dirk, CSO, has a PhD in biomedical imaging, an MBA, and more than 8 years of experience in starting, running and scaling Health Tech start-ups.
For more information on Epihunter please visit https://www.epihunter.com
###