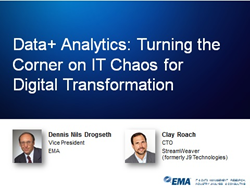 BOULDER, Colo. (PRWEB) March 20, 2018
Enterprise Management Associates (EMA), a leading IT and data management research and consulting firm, today announced it will host a webinar titled "Data + Analytics: Turning the Corner on IT Chaos for Digital Transformation," featuring Dennis Drogseth, vice president of research at EMA, and Clay Roach, chief technology officer at StreamWeaver.
IT operations, as well as IT in general, are often fragmented in the face of cloud, agile, and mobile, along with other pressures to adapt and perform as a true business. As a result, digital transformation remains more of a promise than a reality for most organizations.
Fortunately, there are signs of progress—most notably a growing array of capabilities for cross-domain, advanced, predictive analytics for optimizing IT service delivery and minimizing disruptive incidents. Getting relevant data across multiple sources and silos to enable advanced IT analytics, however, often remains the number one challenge.
During this webinar, Drogseth and Roach, will discuss how to overcome this challenge, as well as:

Why digital transformation depends on IT transformation
The growth of advanced IT analytics
The need for well-integrated data from across a wide variety of sources
The benefits when data and analytics do come together
Real-world examples taken from EMA research and StreamWeaver customers
The webinar is Wednesday, March 28 at 2:00 p.m. Eastern. Those who wish to attend can register at: http://info.enterprisemanagement.com/data-analytics-turning-the-corner-on-it-chaos-for-digital-transformation-webinar-pr
About Enterprise Management Associates (EMA)
Founded in 1996, EMA is a leading industry analyst firm that specializes in providing deep insight across the full spectrum of IT and data management technologies. EMA analysts leverage a unique combination of practical experience, insight into industry best practices, and in-depth knowledge of current and planned vendor solutions to help clients achieve their goals. Learn more about EMA research, analysis, and consulting services for enterprise line of business users, IT professionals and IT vendors at http://www.enterprisemanagement.com.