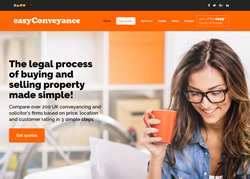 It's time for the home buying process to be brought into the 21st century. easyConveyance will provide the latest technology and innovation required to deliver a more transparent and accelerated solution to the current slow and clumsy system in the UK
(PRWEB UK) 12 April 2018
easyGroup is collaborating with a Northern Ireland-born entrepreneur to revolutionise the UK home buying and selling process with the launch of a new conveyance comparison tool, easyConveyance.com.
easyConveyance.com is a comparison website designed for use by home buyers and sellers who need to instruct property solicitors or conveyancers to act on their behalf. Home buyers and sellers can compare conveyancing quotes easily online from over 200 conveyancing and property solicitors' firms across the UK.
Founder and CEO Connor McCann recently won an award to licence the "easy" name from Sir Stelios Haji-Ioannou's easyGroup, which nurtures new businesses looking to use a well-known European brand leader.
To find out more visit: https://www.easyConveyance.com
Conveyancing quotes are based on price, location and customer rating. Once buyers and sellers have chosen their preferred conveyancer, they can instruct them via easyConveyance.com and thereafter track progress of their sale or purchase. Buyers and sellers also have telephone access to a UK help desk seven days a week to receive updates.
Connor McCann, said: "The home buying process in the UK is outdated and problematic, with over 25% of house sales collapsing each year. This can be stressful and costly for both buyers and sellers with Which? magazine rating buying and moving house as being more stressful than having children, changing jobs or getting married!"
In September 2017, a survey carried out by the National Association of Estate Agents (NAEA) found that 79% of its members believe the home buying process is outdated.
Meanwhile, the UK government issued a housing white paper in October 2017 calling for evidence on ways to streamline and improve the home buying process, making it faster and less stressful for those involved.
Sir Stelios said: "It's time for the home buying process to be brought into the 21st century. easyConveyance will provide the latest technology and innovation required to deliver a more transparent and accelerated solution to the current slow and clumsy system in the UK."
ENDS
CONTACT DETAILS:
Connor McCann
easyConveyance
The Lansdowne Building
2 Lansdowne Road
Croydon
London
CR9 2ER
Tel: 02034323358
Richard Shackleton - Communications Director to Sir Stelios Haji-Ioannou
Tel: 05603 678166
Mobile: 07905 779799
Email: richard.shackleton(at)easygroup.co.uk
Facebook: @easyConveyance
Twitter: @easy_Conveyance
LinkedIn: easyConveyance
Google+: plus.google.com
About easyGroup:
A strategic decision taken during the easyJet floatation back in 2001 means ownership of the 'easy' brand, (including easyJet) is retained in Sir Stelios' private investment vehicle, easyGroup, based in Monaco and London. (http://www.easy.com)
As a result easyGroup now enjoys a steady and predictable income from licensing the easy brand to many businesses including the airline in return for a royalty based on turnover. The easy brand has been extended and licensed to many other sectors - all dedicated to offering consumers more value for less.
These include: easyHotel, which was also floated on the London Stock Exchange in 2014, easyBus, easyCar, easyProperty, easyOffice, easyFoodstore, easyCoffee, easyGym, with many more in the pipeline, all of which contribute to easyGroup's royalty income stream. Sir Stelios continues to look for carefully selected partners with whom to extend the brand.