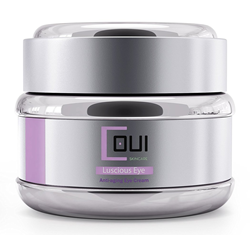 "We believe a high-quality, effective skin care collection doesn't necessary have to carry a premium price point." Allesandra Poletti, co-founder at COUI Skincare
HOUSTON, Texas (PRWEB) March 20, 2018
Customers who have reached out to COUI Skincare, asking them to offer a night time eye cream to compliment the day cream already on offer, are about to be satisfied at last. The skin care experts have introduced two new
options.
Luscious Eye Cream is meant as an all-in- one day or night product. Made with chrysen and caffeine, it is especially useful for removing dark circles under the eyes, or for soothing puffy eyes while nourishing even the most sensitive of skin. Luscious Eye Cream keeps the skin around the eyes hydrated for optimum health. Retinol Night Cream is a traditional anti aging eye solution for nighttime use. The active ingredients work to help the skin produce collagen, filling in fine lines while the user sleeps. This product also tightens pores around the eyes. Users wake with the skin around their eyes feeling cleaner and more refreshed. "We're excited to expand our line of skin care products in a way that meets the plainly-spoken needs of our valued customers," says Alessandra Poletti, co-founder at COUI Skincare.
Poletti's team spent months developing both eye creams, and months more testing them to ensure the products met the company's quality standard. "At COUI we believe a high-quality, effective skin care collection doesn't necessary have to carry a premium price point. We believe everyone should experience luxury treatment without the luxury price tag. Your skin is important! We treat it right." Both Poletti and her co-founder, Dr. Hannah Sivak, got into the skin care business after facing serious skin care issues of their own. The new eye creams are available for sale on Amazon.com, Ebay.com, Etsy.com, and Couiskincare.com.
For more information, contact:
Frank ZHU
1709 Hackney Cove
Austin TX, 78727
Main 512-919-0154
ABOUT COUI
The founders of COUI, Alessandra Poletti and Dr. Hannah Sivak, suffered from skin problems all their lives. Poletti is an expert in plant-based products. Sivak is a renowned biochemist with 45 years of experience.
The team at COUI has traveled the world seeking the finest, freshest, and most effective ingredients for skin care products. Intensive research allows these two skin care experts to create formulas that solved their own skin care problems—and which continue to solve those problems for men and women around the world at affordable prices backed by an 100% lifetime satisfaction guarantee.