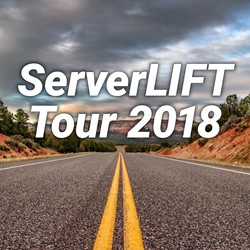 Trade show visitors come to understand the improved safety and efficiency of server handling when they see our lifts live. You can't really appreciate how robust and convenient these lifts are until you experience them for yourself.
PHOENIX (PRWEB) March 22, 2018
ServerLIFT Corporation, which manufactures the most robust and convenient lifts for data centers, will be giving IT managers the opportunity to personally try ServerLIFT data center equipment lifting devices at two upcoming shows:

March 26-29 NVIDIA GPU Technology Conference (GTC) in San Jose, California. This premier conference focuses on artificial intelligence (AI) and deep learning. Visitors will learn about university research breakthroughs and the latest from AI startups and major-league enterprises. In addition, it will cover autonomous vehicles, smart cities, and virtual reality.
May 1-2 Data Center and Cloud Infrastructure Transformation Summit in New York. With 1,500 data center and cloud infrastructure professionals, this event will concentrate on the modern, full-stack, private cloud, software-defined data center (SDDC). The event sponsor, DataCenterDynamics (DCD) reasons that "It is no longer a given that moving workloads into public or hybrid cloud architectures will achieve higher performance and lower costs."
ServerLIFT also recently participated in Data Center World Global 2018 in San Antonio, Texas, a show that featured more than 1,000 exhibitors from data centers, facilities, and IT infrastructure industries. In addition, another 3,500 members of the Association for Computer Operations Management (AFCOM) participated in the event.
ServerLIFT attends shows to ensure that their products and solutions always meet the ever-changing needs of IT industry operations. ServerLIFT exhibits at these shows to give IT managers hands-on experience with the lifting equipment for themselves, and to see how these lifts make the removal, transport, positioning, and installation of heavy data center equipment far more convenient and safe.
"The data center managers who are using three techs to lift a 500-pound server understand immediately why this method is a vast improvement," says Steve Bashkin, director of sales for ServerLift. "A single tech can slide a server out of a rack, move it to the next rack, lift and position the server precisely, slide it into the rack, all at the touch of a button."
The company also attends industry events to interact with customers. "Every function of our ServerLIFT equipment has been designed using input from data center techs and managers," says Bashkin. "The floor clearance, the ability to install servers at the highest and lowest levels, the way the operator interacts with the controls, the unique load-balancing design, and the overall safety and robustness of our server lifts have all come from input from techs and managers."
Learn more about the upcoming events:
ServerLIFT Corporation manufacturers the world's only data center lift capable of safely and efficiently transporting, positioning, installing, and removing servers in any data center environment.