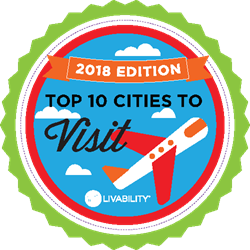 FRANKLIN, Tenn. (PRWEB) March 20, 2018
The 2018 travel season is quickly approaching and there's no better way to kick off the season than exploring some of the best U.S. cities to visit. Whether traveling with friends or family, planning the perfect destination should be as fun as the vacation itself.
With this in mind, Livability.com has named the 10 Best Places to Visit for 2018. This data-driven list is comprised of 10 cities that are fun, safe and comfortable — with plenty of opportunities for adventure at any price point.
Livability data scientists and editors studied important criteria, such as each city's entertainment industry, cultural offerings, number of golf courses and parks, along with ease of transportation, average hot and cold temperatures throughout the year, and 2017's crime rate statistics.
"The 2018 Best Places to Visit list includes a really fun mix of famous vacation destinations and off-the-beaten-path gems for any travel style and budget," says Winona Dimeo-Ediger, Livability.com Managing Editor. "Whether you're looking for relaxation or adventure, these great cities will help you make the most of your vacation days."
The 10 Best Places to Visit:
1. Newport Beach, CA
2. Brookline, MA
3. Naperville, IL
4. Pleasanton, CA
5. Jupiter, FL
6. Flower Mound, TX
7. Boca Raton, FL
8. White Plains, NY
9. Sammamish, WA
10. Scottsdale, AZ
For more information about the 10 Best Places to Visit or to schedule an interview, please contact: Winona Dimeo-Ediger, Livability.com Managing Editor, at wdimeo-ediger(at)livability(dot)com.
About Livability.com:
Livability.com explores what makes small to mid-sized cities great places to live, work and visit. We examine issues related to livability such as walkability, cultural amenities, transportation, urban planning and sustainability through exclusive research and discussions on our blog. We celebrate the accomplishments of these cities through our monthly top 10 lists, our annual ranking of the Top 100 Best Cities to Live, and daily articles exploring the who, what, why and how behind the "where." Livability.com is a division of Journal Communications, Inc.