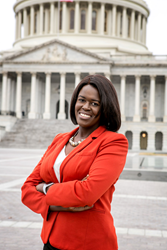 The mission of the Omara Strategy Group is to de-mystify the process and level the playing field to give our clients an edge to succeed in their political aspirations.
LOS ANGELES (PRWEB) March 21, 2018
Award-winning political strategist, advocate, writer and speaker, Atima Omara, is happy to announce the launch of her new consulting firm, the Omara Strategy Group. Based in Washington, D.C., the black woman-owned political consulting firm will dedicate its work to electing progressive people of color, women, and LGBTQ candidates to public office. In addition, the firm will also provide political- and capacity-building services to organizations that center women and people of color in their work to build progressive political power and enact a more representative democracy.
Strategically, the Omara Strategy Group is gearing up in the era of Trump where new voices and views are seeking a seat at the political table. There's been a surge of groundbreaking Democratic wins for women and people of color across the country in part, sparked by a new breed of civic-minded individuals interested in running for public office. The Omara Strategy Group will lend its expertise and guidance to many of these first-time progressive candidates along with grassroots organizations who are working to support them or mobilize resources for targeted elections.
With more than 15 years of experience, Omara is a well-rounded political operative, bringing a wealth of experience in politics and community organizing in forming the Omara Strategy Group. She's held a variety of positions -- from Democratic Party leader and organizer to campaign staffer and non-profit executive. Plus, she's even ran for public office herself.
Omara was the first African American and the fifth woman to serve as president of the Young Democrats of America from 2013-2015 in its more than 80-year history. It's the nation's largest youth partisan membership-based organization. As president, Omara not only engaged and organized young people in the political process in almost all 50 states, but she also achieved membership growth, fundraising success, stream-lined operations, and increased collaborations with allied progressive organizations. Currently, Omara is an elected Democratic National Committee (DNC) member from Virginia and a vice chair of the DNC's Women's Caucus.
"I know from personal experience how overwhelming it can be to launch a political campaign," said Omara, founder and president of the Omara Strategy Group. "But more importantly, I also understand the institutional barriers and gatekeeper actions that keep interested people from running for office successfully, especially if you're a woman, young or a person of color." "The mission of the Omara Strategy Group is to de-mystify the process and level the playing field to give our clients an edge to succeed in their political aspirations," she added.
In helming the Omara Strategy Group, she believes that progressive social change is not solely achieved through electoral politics or activism alone, but rather a combining of the two to achieve the critical mass in a fully representative democracy. "We need diversity of thought and leadership to gain the results we want to challenge the status quo," Omara said.
For more information about the Omara Strategy Group, visit OmaraStrategy.com.
ABOUT ATIMA OMARA, president of the Omara Strategy Group
From grassroots organizations to state houses, Omara has toiled in the trenches for the good of social change, specifically engaging youth, women, and people of color in the political process and related progressive causes.
She is a mover and shaker in the political world, and her name regularly pops up on media power lists. She has been recognized for her public service, landing on Ebony Magazine's 2013 "Power 100" list of emerging leaders; Jet magazine's 2013 "40 Under 40" list and featured in Essence magazine's "Ten Things We're Talking About."
In addition, she has nabbed a plethora of awards, including the 40 Under 40 African Americans award by the Virginia Leadership Institute, the Women of Vision award by the Arlington County Commission on the Status of Women, the Young Women of Achievement Award in Leadership from the Women's Information Network in Washington, D.C., as well as the Young Democrat for Life and the Female of the Year award from the Virginia Young Democrats.
Omara has appeared as a political commentator on national and international media outlets, including, MSNBC, CNN, PBS, Fox News, Fox Business, Sirius XM and NPR. Her writings on topics of national politics, candidates, race, gender and culture have been featured in various media outlets, including The Lily (a Washington Post publication), Salon, Mic, The Root, Huffington Post, Alternet, The Hill, and Talking Points Memo as well as the American Prospect magazine and Ebony Magazine – just to name a few.
Born in Providence, R.I. and raised in Richmond, Va., Omara attributes her hard work and dedication to underserved and underrepresented communities to her immigrant parents from Uganda. In the 1970s, her father came to the United States as a refugee, seeking political asylum, and her mother, came independently, pursuing educational opportunities in America. Today, they are proud, naturalized citizens.
FOR THE SOCIAL MEDIA RELEASE, visit http://png.pe/q2v2C
Photo courtesy of the Omara Strategy Group