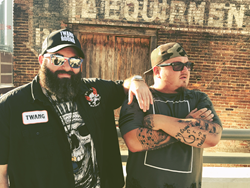 NASHVILLE, Tenn. (PRWEB) March 20, 2018
Kentucky based country/AmeriFlow duo Twang and Round have premiered their brand new video for "Devil To Pay" featuring Tobi Lee and Stump from I4NI online at https://youtu.be/0FXiBwnlsAY. Dammitboy Entertainment directed the video, and once again Jon Conner captured the essence of AmeriFlow. The video takes place in Edmonson County, Kentucky at a local baptism spot. For the song and video, Twang was able to draw inspiration from his background singing in the church choir, where his grandfather was Deacon.
"From the beginning, we felt it was a song about having a road to redemption in this journey of life. The battle of good and evil if you will. Each of us make important decisions every day as people, but in the grand scheme of things, what is the most important decision to make? The answer is where, and who you are going to spend your eternity with," commented Twang. "That's how the visuals of a Kentucky funeral coupled with baptism and of course a sermon at Creekside came into play. Having Stump Phillips from I4NI featured on the track gave us the opportunity to create a story of choice how life offers two different roads for individuals to choose."
Coloring outside the lines of any genre-specific formula takes courage, Twang and Round's musical palette is much more refined than their rapping country brethren. The group can go from blasting the likes of Creedence Clearwater, The Black Crowes, and Lynyrd Skynyrd one minute, to seamlessly mixing in UGK, OutKast, and Beastie Boys the next. All of these elements come together to give Twang and Round a unique signature sound that bridges the gaps between country and hip-hop.
Twang and Round recently signed a long-term deal with Thirteen Skulls Entertainment for the release of their upcoming album (Spring 2018). Thirteen Skulls Entertainment is more than just music, it's a lifestyle for fans who love to have fun, share a couple of drinks, and roll through the heartland with the windows rolled down. AmeriFlow music combines intense rhymes, backwoods bravado, a little moonshine and American pride. The mixture comes together in the melting pot coined 'AmeriFlow!'
About Thirteen Skulls Entertainment:
Thirteen Skulls Entertainment was founded by music industry veteran Ron A. Spaulding and Major League Baseball Hall of Famer Frank Thomas and is in partnership with AMPED Distribution/Alliance Entertainment. Thirteen Skulls Entertainment is focused on the "AmeriFlow" genre, which is a musical hybrid of country, rap, and rock. The label provides a full range of services in the fast-changing music business and offers artists home with the necessary tools to nurture and incubate creativity without constraints. With the focus on creating AUTHENTIC music, Thirteen Skulls Entertainment's legacy will be defined by creativity and uncompromising commitment to artistry.