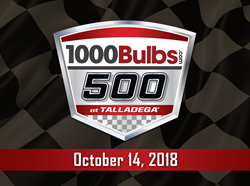 GARLAND, Texas (PRWEB) March 21, 2018
1000Bulbs.com extends their foray into NASCAR with the 1000Bulbs.com 500 on October 14. The playoff event at the pressure-packed Talladega Superspeedway is the second race in the Round of 12 for the Monster Energy Cup Series.
Featured in movies and songs, the Talladega Superspeedway is well known as the longest track in NASCAR. The track's reputation for thrilling races and fan-friendly activities coincides with 1000Bulbs' own commitment to innovation and excellent customer service.
"Talladega Superspeedway is an icon among sports venues and their staff has been extremely welcoming to us," states Kim Pedersen, CEO of 1000Bulbs.com, "Their dedication to providing an incredible fan experience matches our own dedication to exceptional customer service, competitive prices, and an easy purchasing experience. This is a great opportunity for us and the track to show our customers and fellow NASCAR fans a good time."
The 1000Bulbs.com 500 builds on the company's steadily growing involvement in the world of NASCAR. This season the world's largest online lighting retailer is also the primary sponsor of four races for 2013 Talladega winner, David Ragan and his Front Row Motorsports' No. 38 Ford.
"We at Talladega Superspeedway have the same philosophy as our friends at 1000Bulbs.com," said Grant Lynch, Chairman of Talladega Superspeedway. "It's to make our customers happy, and we are able to do that with the most competitive racing on the planet as well as the best experience imaginable for everyone who attends. We are eager to help educate our fans with everything that such a reputable company as 1000Bulbs.com has to offer. We are thrilled to have Kim and his team become a part of the Talladega team with the running of the 1000Bulbs.com 500."
The 1000Bulbs.com 500 brings speed and skill to high point as the second playoff race in the Round of 12 for NASCAR's premier series. The weekend will also feature the Talladega 250 for the NASCAR Camping World Truck Series on Saturday. For more information and updates, visit http://www.facebook.com/1000bulbs.
About 1000Bulbs.com
1000Bulbs.com is an award-winning, internet-based lighting retailer. Since its modest beginnings in 1996, the company has grown to offer a vast variety of high quality commercial, residential, and Christmas lighting. 1000Bulbs.com provides lighting solutions to everyone, whether it is the LED bulbs in the bedside lamp or the commercial lighting that lines city streets. Nationally recognized for growth, innovation, and customer satisfaction, from the White House to your house, 1000Bulbs.com is an influential force in the lighting industry.
About Talladega Superspeedway
Talladega Superspeedway is NASCAR's Most Competitive (record 88 lead changes in 188 laps), highest banked (33 degrees), and longest track (2.66-miles), as well as the most fun and fan-friendly. Talladega offers something for everyone, including hundreds of acres of free camping, amazing kids' tickets and college student prices, along with special offers for military members, first responders as well as teachers and educators. The historic venue, built in 1969, features the traditional Saturday Night Concert and the world-renowned Talladega Blvd, home of Friday night's "Big One on the Blvd" party. It's the site of the most comfortable seats in motorsports, large ISM Vision HD video boards lining the frontstretch and endless pre-race activities for fans on race day, including special kids' VIP opportunities. Talladega's spring 2018 triple-header race weekend is set for April 27-29 and its fall event weekend, featuring the 1000Bulbs.com 500, is October 13-14. For more information, go to talladegasuperspeedway.com or call the Talladega Ticket Office at 855-518-RACE (7223).