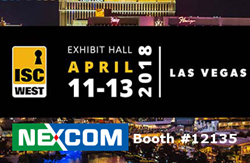 LAS VEGAS (PRWEB) March 20, 2018
NEXCOM is coming to Las Vegas for the largest security industry tradeshow in the United States, from April 11-13, 2018. Held annually at Sands Expo, guests at the International Security Conference (ISC) West will be able to visit NEXCOM and see a wide range of surveillance solutions, such as 3D, IP and ANPR cameras; mobile, tower and rackmount NVRs; and an Intel-based AIO camera system.
Utilizing superb technologies and designed for advanced Intelligent Video Analysis (IVA), NEXCOM's surveillance systems fulfill customer expectations across numerous vertical markets, including retail, banks, warehouses and government buildings; as well as mobile applications, such as police vehicles, fire trucks, school buses and ambulances.
For anyone involved with any aspect of security, this is a must attend event. Register today using this link for a free expo hall pass: http://iscwest18.nvytes.co/iscwinv2018/339.html
Event Info:
Dates: April 11-13, 2018
Venue: Sands Expo, Las Vegas, NV
NEXCOM Booth #: 12135