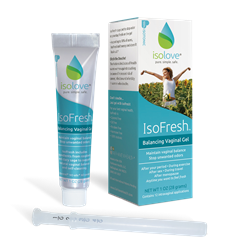 I use this product regularly and I recommend it to all of my friends and relatives that are concerned about their vaginal health. -Sexual Medicine Specialist Dr. Joanna Ellington
BELLINGHAM, Wash. (PRWEB) March 21, 2018
Preliminary clinical trial data from ObGyn practice settings found that over 95% of women using the IsoLove IsoFresh Balancing Vaginal Gel from Fairhaven Health every three days for a month reported a decrease in vaginal odor concerns and a "more fresh and clean" feeling. The study includes an ethnically diverse group of women, some of who are of reproductive age and some of who have reached menopause. A decrease in concern about feminine odor was seen among the study participants after just one application of IsoFresh, with a further increase following multiple uses. The women also reported that they like that IsoFresh is an easy to use, clear, and clean vaginal gel.
IsoFresh Balancing Vaginal Gel is a patented, vaginal gel containing lactic acid that is applied inside the vagina every three days, or less frequently as needed. Once it has been inserted, it adheres to the lining of the vagina to support normal vaginal self-cleaning and to stop odors produced by unhealthy bacteria. The formula contains no ingredients reported to harm vaginal cells or friendly bacteria. In fact, laboratory tests on IsoFresh show that it has no irritation potential. In contrast, other commercially available balancing gels include ingredients that have been shown to interfere with vaginal cells and healthy vaginal bacteria, and these products have moderate to severe irritation potential. Vaginal irritation was evaluated in the IsoFresh study using World Health Organization (WHO) criteria. Vaginal examination by physicians using the WHO criteria revealed no irritation following consistent use of IsoFresh over one month.
Before beginning the research protocol, study participants filled out a questionnaire that asked them to describe what, if any, concerns they have about feminine odor. The study participants reported an increase in concern about embarrassing vaginal odors following their menstrual period, after sexual intimacy, and when changing clothes. The women also reported that concern about odor causes them to change social plans and/or avoid wearing certain types of clothing. Sexual Medicine Specialist, Dr. Joanna Ellington, is not at all shocked by these concerns. Dr. Ellington formulated IsoFresh Vaginal Gel to be a helpful solution for women of all ages that are regularly concerned about unwanted feminine odors. "Most women know that douching is dangerous to vaginal health," says Ellington "But until IsoFresh there hasn't been a product that decreased odor concerns, without using ingredients that can harm the vaginal ecosystem."
Physiologic or "natural" pH in the vagina is low to protect the healthy bacteria that fight off infections, including sexually transmitted diseases. As a result, maintaining a physiologic pH is critical for vaginal health. The IsoFresh study also evaluated links between vaginal pH and odor concerns. Women who used IsoFresh were found to have significantly lower vaginal pH after just one dose and one month of using IsoFresh per the recommended use of the product. "I was not surprised to see that IsoFresh helped maintain a physiologic vaginal pH, or that it decreased odor concerns for so many women," states Ellington. "I use this product regularly and I recommend it to all of my friends and relatives that are concerned about their vaginal health."
MSRP is $19.95. To learn more about vaginal pH, vaginal health, and how unwanted feminine odors develop, visit myisolove.com.
About Fairhaven Health
Fairhaven Health is a specialty supplier of natural, doctor-designed products to support fertility enhancement, pregnancy and breastfeeding. Fairhaven offers a broad range of products to help couples conceive, providing natural alternatives to more expensive and invasive infertility treatments. The company's clinically validated fertility supplements and ovulation prediction tools are recommended by OBGYNs and fertility specialists having helped tens of thousands of couples conceive naturally. Once pregnancy is achieved, Fairhaven offers natural, doctor-designed prenatal supplements and the award-winning Milkies nursing products to help new moms meet their breastfeeding goals. The company's newest brand, Isolove, offers a vaginal probiotic supplement made without parabens and isotonic BioGels designed for alleviating vaginal odor, perineal massage, postpartum recovery, and TTC lubricant. For more information, visit http://www.fairhavenhealth.com.