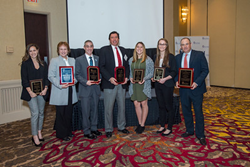 "Had it not been for Suzanne's timely actions on the football field ten years ago, I would not be here today. I owe my life to "Ms. Barba" and I can't think of anyone in the world who deserves the Loyalty and Commitment award more than she does." - Kevin Saum
TRENTON, N.J. (PRWEB) March 21, 2018
The Athletic Trainers' Society of New Jersey (ATSNJ) is proud to recognize the seven individuals who were selected as award winners at the 32nd Annual Conference and Business Meeting. These individuals have made an impression on the profession of athletic training within New Jersey. The ATSNJ is thankful for their positive contributions and is honored to award four scholarships, the ATSNJ Presidential Award, the Dr. Timothy Hosea, MD Team Physician Award, the ATSNJ Distinguished Service Award and the first ever ATSNJ Loyalty and Commitment Award.
ATSNJ Presidential Award - Andrew J. Smith
Andrew began his career over 20 years ago as a Specialist in Equity and Derivative trading on the floor of the New York Stock Exchange. In 2008, he was asked to serve as a Senior Economic Advisor for Senator John McCain's Presidential Campaign. Andrew earned a B.A., University of Delaware and an M.B.A., New York University Stern School or Business. Active in the Charleston community, Andrew currently serves on the Finance Committee for Trident United Way and the Board of Trustees of Charleston Autism Academy, where he is Co-Treasurer. He lives in Mt. Pleasant, SC with his wife and two children.
Christina Emrich, ATSNJ President, had this to say about Mr. Smith. "Andrew has been outstanding with financial advisement for ATSNJ. Through his recommendations, our savings and assets continue to grow which allows us to provide more opportunities for our membership while still maintaining a fiscally conservative budget year after year."
Dr. Timothy Hosea, MD Team Physician Award - Dr. Charles J. Gatt, Jr. MD
The Timothy Hosea Award is a team physician award, and with good reason. Dr. Hosea was a team orthopaedic physician at the secondary school, collegiate and Olympic levels. Dr. Gatt has assumed that role for most of his professional life. On the collegiate level, Dr. Gatt has held the role of Orthopaedic Consultant and Team Physician with Rutgers University since 2009 as well as Team Physician with Rider University since 1998, as well as the Team Physician at Hillsborough High School from 2000 to 2008 and currently holds the same role with Montgomery High School. Dr. Gatt also serves high school athletes as a member of the Skyland Conference Team Physician Association and the NJSIAA Medical Advisory Board.
Dr. Gatt has always strived for advances in the sports medicine field. He is currently the Chair of the Department of Orthopaedic Surgery at Rutgers Robert Wood Johnson Medical School in New Brunswick, NJ and has been in the role since 2006. In addition, he is also an Associate Professor of Orthopaedic Surgery at UMDNJ Robert Wood Johnson Medical School and a Graduate Faculty member at Rutgers University School of Biomedical Engineering.
Dr. Gatt has an extensive resume in regards to Publications, Presentations and Exhibits. In terms of refereed original articles in journals, he has had 28 publications including one entitled "Back Pain in Golf" which appeared in volume 15 (1996) of Clinics in Sports Medicine and was authored with Dr. Hosea, for whom this award is named.
ATSNJ Distinguished Service Award - Eric Schwartz, ATC
The ATSNJ Distinguished Service Award is given to a current ATSNJ member who has contributed through Athletic Training activities in the State of New Jersey.
This year's award recipient is Eric Schwartz who has served the ATSNJ in many different ways. He currently holds the role of Past President, having served as President from 2015-2017, President-Elect from 2013-2015 and Secretary from 2010-2013. In addition to these roles, Mr. Schwartz is also a member of the public relations, governmental relations and annual golf outing committees. Outside of the ATSNJ, Eric remains involved with the highest level of New Jersey high school athletics.
A graduate of East Stroudsburg University of Pennsylvania and The College of New Jersey, Eric has been employed as an athletic trainer with Washington Township High School in Washington, New Jersey since 2011. Prior to this role, Eric was the Head Athletic Trainer at Allentown High School from 2005 to 2011 and Notre Dame High School in Lawrenceville, NJ from 2000-2005.
"Eric has always had a philosophy of giving back to this great profession, and he has always found ways to give our members opportunities to give back as well. Said Christina Emrich, ATSNJ President. "We are proud to honor him with the distinguished service award in recognition of his commitment and dedication to ATSNJ and athletic training."
ATSNJ Loyalty and Commitment Award - Suzanne Barba, ATC
The ATSNJ Loyalty and Commitment Award, recognizes deserving ATs in NJ for demonstrating a long-term commitment to the profession, through public awareness, promotion and education about the athletic trainer's role in their local communities. The nominee must have also made progressive and substantial improvements to his/her athletic training program, provide extraordinary service to local community and have attended the ATSNJ annual conference and business meeting in the last 5 years
This year's award recipient is Suzanne Barba. Suzanne was nominated by Mary Jane Rogers and exemplifies this award in so many ways. For the past 35 years, Ms. Barba has been the athletic trainer at West Morris Central High School. She was previously Mt. Olive (NJ) High School's first athletic trainer. Ms Barba has always made herself available to meet with people to discuss our field of expertise and the importance of having an athletic trainer, and as a result has helped the evolution of Athletic Training in our state.
Over the years, Suzanne has routinely volunteered at alumni games and different athletic events that donate funds to charity. She has worked with local EMS squads in developing protocols and relationships to ensure the best possible care for her athletes. Suzanne is also a preceptor for Seton Hall University and hosts athletic training students each semester as part of their clinical experiences. Suzanne has also volunteered her time as an athletic trainer during the 1996 Summer Olympic Games in Atlanta, Georgia. Suzanne states it best about her time as an athletic trainer, "In 1983, I started at a school that was not sure what an Athletic Trainer was." She said. "Through hard work and sometimes hard times, I had the opportunity to develop a program that the school and parents trust and depend on. I find it funny that when I first started the question was, "Who is she?" and "What does she do?", to now, "Where is she?" and "How fast can she get here?"
Christina Emrich, ATSNJ President had this to say about Suzanne Barba: "Suzanne Barba has gone above and beyond for her athletes, athletic training and her community. I can't think of a better person for recognition as our first recipient of the ATSNJ Loyalty and Commitment award. We are proud of Suzanne's dedication to the athletic training profession and to the health and safety of her athletes."
In addition to all of the great work Suzanne has done, she also saved the life of one of her athletes. Kevin Saum played football for West Morris Central High School and suffered a traumatic brain injury (TBI) during a game one evening. When asked about Suzanne Barba, Kevin Saum had this to say: "Had it not been for Suzanne's timely actions on the football field ten years ago, I would not be here today. I owe my life to "Ms. Barba" and I can't think of anyone in the world who deserves the Loyalty and Commitment award more than she does. The student athletes at WMC have been blessed to have Suzanne serve as our guardian on the sidelines for the past 35 years."
Victor (Vito) D. Recine Memorial Scholarship - Michelle Freitas
The ATSNJ is pleased to award the Victor (Vito) D. Recine Memorial Scholarship. Mr. Recine was an Athletic Trainer for over 40 years in New Jersey, and a leader in the development of our Athletic Training Practice Act as well.
In order to receive the scholarship, the recipient will be selected from high school seniors who live and attend school in New Jersey aspiring to pursue a career in athletic training. This year's recipient is Michelle Freitas from Hillside High School. Ms. Freitas was sponsored by Hillside High School Athletic Trainer James Boyle.
Michelle has been accepted to 3 collegiate athletic training programs and she has attended ATSNJ Athletic Training Student Aide Workshops. She is a Hillside High School Athletic Training Student Aid (2015-2018), a member of the Hillside High School Girls Soccer team where she was a captain her junior and senior years, President of Athletic Training Club, and a member of the Class of 2018 Club, Drama Club Play Production (The Wizard of Oz), Art Club and Future Business Leaders of America (FBLA) Event Coordinator.
Richard Malacrea Scholarship - Mary-Grace Testa, Rowan University
The Athletic Trainers' Society of New Jersey, Inc. has named an undergraduate and professional study program for Richard Malacrea, meant to encourage the recipient to continue his/her education toward an Athletic Training degree. This year's recipient is Mary-Grace Testa from Rowan University. Ms. Testa was sponsored by Rob Sterner of Rowan University.
Mary-Grace holds a 3.93 GPA on a 4.0 scale. She was a Rowan University Scholar Athlete (2014-2017, on the Rowan University Dean's List (2014-2017), American Volleyball Coaches Association (AVCA) Team Academic Award and Honor Roll 2016-2017 and the recipient of the 2018 Eastern Athletic Trainers' Association District 2 Charlie Thompson Scholarship Award. Ms. Testa is also active within athletic training at Rowan University. She is a member of the Rowan University Athletic Training Club, Annual 5k Run Chair, and on the Rowan Golf Outing Committee. She also volunteered her time as an Athletic Training Peer Tutor and as an Athletic Training Peer Mentor.
Jack Weakley District 2 Scholarship - Madalyn DiBona, Rowan University
The Jack Weakley District 2 Scholarship is named for an individual who is a champion of Athletic Training on a national level, and a true friend to Athletic Trainers in the State of New Jersey.
This year's recipient is Madalyn DiBona from Rowan University. Ms. DiBona was sponsored by Colleen Grugan.
Madalyn holds a 3.795 GPA on a 4.0 scale. She is a Rowan University Admissions Ambassador, a mentor with Leadership Rowan, and involved with the Freshman Leadership and Involvement Program at Rowan University. Madalyn was also the Eastern Athletic Trainers Association Student Delegate for NJ, a Rowan University Athletic Training Club Member, RUAT Club Fundraising Chair and the Coordinator and Creator for Athletic Training Freshman Mentoring.
The ATSNJ would like to congratulate all of this year's scholarship recipients and award winners. Thank you for all you have done to better the profession of Athletic Training in the State of New Jersey. We wish you much continued success.
For more information about the ATSNJ, please visit our website at http://www.atsnj.org or visit our social media pages on Facebook, Twitter, and Instagram.