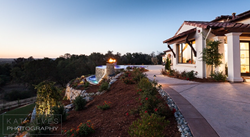 ROSEVILLE, Calif. (PRWEB) April 02, 2018
Today, Kate Bowers (http://katebowersdesign.com) announced a new program that will help residents in Sonoma and Napa County California rebuild—and rebuild in a way that will help to reduce fire risks. She calls this new program "From Wildfire to Firewise" because it will help those living in areas affected by our recent fires create landscapes that will keep them safer from future threats.
"I have clients and friends in Sonoma and Napa Counties," said Bowers, a landscape designer whose work has brought her international recognition on shows such as Yard Crashers on the HGTV/DIY Network.
Kate continued, "I have a soft spot in my heart for this area and I know many residents are looking to rework their landscaped areas. Some of these residents have sustained damage to their property; others simply want to decrease their risk in our fire prone region. Our local authorities now have new firewise landscaping requirements, similar to the water efficient/drought tolerant landscaping principles we've implemented throughout California over the past few years."
"These guidelines involve careful plant selection, placing trees and plants in a way that can reduce the spread of fire, and including specific landscape zones and fire safe materials around your home," said Ms. Bowers.
She continued by explaining how. "I'm partnering with local municipalities and fire districts to stay on top of their recommendations, and to educate my clients on the specifics of how both low water and firewise requirements can be integrated into a beautiful landscape. The information at times can be very overwhelming for the average homeowner. I'm also excited to be donating 10% of the net proceeds from projects started this year from these two counties to local fire-recovery charities."
As a featured designer for ten seasons of Yard Crashers, Kate has built a reputation for creative problem solving and excellent project management. She also focuses on charitable design projects with organizations such as Make A Wish and leads the volunteer organization Happy Spaces, a group that creates outdoor areas designed to accommodate the unique needs of children going through medical treatment or living with disabilities.
By focusing on developing unique designs for clients seeking "outside the box" outdoor experiences, Kate Bowers Design has grown exponentially.
Kate Bowers Design works directly with architects, homebuilders, craftspeople and landscape contractors to create functionally innovative and artistically uplifting one-of-a-kind outdoor designs.
Sonoma County and Napa residents can contact her through her website (http://katebowersdesign.com) or by emailing her directly at kate@katebowersdesign.com to take advantage of this new program. You can also find her on Facebook (https://www.facebook.com/KateBowersDesign/) and Instagram (@Katebowers23).