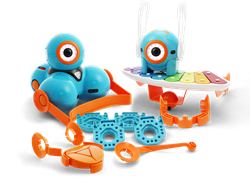 Pioneering access to innovative coding curriculum and robots for students from Montana, Wyoming, North & South Dakota is a natural expansion of our highly successful computer science training programs.
MISSOULA, Mont. (PRWEB) March 20, 2018
Teachers Teaching Tech, a joint initiative of America Campaign and Technology & Innovation in Education, announced today that it was joining the Teach Wonder initiative.
Teach Wonder, a Wonder Workshop led initiative, provides educators with professional development to integrate robotics and coding curriculum into their everyday teaching and learning, along with the opportunity for continuing education credits through participation in online courses. Growing demand from educators, school administrators and parents to bring forward looking curriculum into the classroom is the driving force behind the initiative.
Teachers Teaching Tech will help provide professional development opportunities for educators with topics ranging from classroom design to lesson planning; along with access to lesson plans, student activities, and other resources that are critical to creating engaging learning experiences. Combining these activities with Wonder Workshop's Dash, Dot & Cue robots, teachers will gain a working knowledge of computer science and robotics that will be applied throughout their daily instructional practice.
As the Regional Partner for Code.org, Teachers Teaching Tech also provides no-cost professional development in Computer Science Fundamentals (K-5), Computer Science Discoveries (6-10) and AP Computer Science Principles (9-12) programs for the Montana, Wyoming, North Dakota and South Dakota region with over 1,000 teachers trained to date.
For more information on Teachers Teaching Tech, please visit: http://www.teachersteachingtech.org.