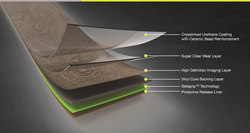 "SetaGrip is the world's first true hybrid, glueless system. SetaGrip's nano-suction technology allows floors to be easily installed, replaced, and reused." - David Kim, Managing Partner - NuFlors
GARDEN CITY, N.Y. (PRWEB) April 04, 2018
NuFlors, a leader in the Luxury Vinyl Tile (LVT) flooring industry, has launched a new patent pending technology that can revolutionize the process of installing LVT flooring. NuFlors has added SetaGrip™ Technology into their flooring manufacturing process to create a cost effective and efficient flooring option. SetaGrip's patent pending vacuum suction layer uses nano-sized pores to generate a strong adhesion that solves the installation and maintenance problems brought on by other LVT products and installation methods.
For over a decade LVT (Luxury Vinyl Tile) flooring  has continued to gain recognition. However, several problems continued to arise with the massive use of LVT in the current market. The existing LVT flooring typically uses one of four installation methods: "glue- down", "click system", "loose lay", and "peel-and-stick"- and they are all problematic.
SetaGrip looks to nature to find the answer. It's no secret that the greatest innovations come from nature. Nature has inspired solutions for everyday challenges including those in design. Scientists have studied the feet of geckos and have found that they contain physical properties that promote stickiness. Using biomimicry, we studied the gecko and began looking into nano-suction technology. This technology uses millions of nano-sized pores, vacuum and negative fluid pressure to securely adhere any object to a flat, non-porous surface. We applied this technique into our flooring manufacturing process and SetaGrip was born. With SetaGrip technology, the flooring is pressed against a surface, activating the nano-sized pores. Essentially, these act like millions of micro-suction cups which when in contact with the surface generates a strong adhesion.
"SetaGrip is the world's first true hybrid, glueless system. The innovative technology behind this new all-in-one solution maintains adhesion as well as traditional glue down methods without the use of an adhesive. Quick install products such as loose lay and click, cannot match the value of this technology." says NuFlors Managing Partner, David Kim, "SetaGrip's nano-suction technology allows floors to be easily installed, replaced, and reused."
The patented vinyl core is specially formulated with white kaolin clay to provide extra dimensional stability and resistance to shrinking and expanding due to environmental and other forces. This keeps the planks dimensionally stable, helps with resilience and recovery from heavy loads, and provides indentation resistance.
About NuFlors - In 1990, NuFlors' entered the flooring industry by sourcing PVC tiles for a major New England based importer. As the industry evolved, NuFlors' focus sharpened around developing sophisticated technologies for the advancement of what is now called luxury vinyl tiles (LVT) and commercial sheet vinyl (CSV). NuFlors' dedication to flooring innovations led them to develop the first peel and stick flooring tile. Since then, they continue to innovate the LVT & CSV category with new products, designs and manufacturing methods.