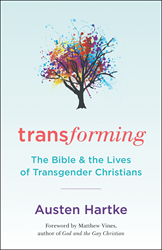 "This is an important book that fills an urgent need." —Booklist, starred review
LOUISVILLE, Ky. (PRWEB) March 27, 2018
How do transgender people of faith contend with a church that has historically ostracized or outright condemned them? How might we open our hearts and broaden our understanding of the transgender experience through Scripture? In a religious landscape divided over transgender inclusion, author and transgender advocate Austen Hartke argues for a welcoming church. In his book, Transforming: The Bible & the Lives of Transgender Christians, Hartke challenges his readers on their faith assumptions about transgender inclusion and makes the case for God's love toward all people. Along the way, Hartke provides hope to those who have felt abandoned by their faith communities.
Austen first began advocating for transgender Christians in his You-Tube series Transgender and Christian where he seeks to understand, interpret, and share parts of the Bible that relate to gender identity and the lives of transgender individuals. "I believe God made all of me—gender identity included," Austen writes. "I don't think God made a mistake. I think God made me transgender on purpose."
Austen Hartke is a graduate of Luther Seminary's Master of Arts program in Old Testament/Hebrew Bible Studies and winner of Luther's 2014 John Milton prize in Old Testament writing. As a transgender person of faith, Austen's greatest passion is helping other trans and gender-non-conforming people see themselves in scripture.
Praise for Transforming: The Bible & the Lives of Transgender Christians
"[Austen Hartke] points out the importance of finding a supportive faith community. He writes movingly about his own search for such an environment but also offers the perspectives of a wide variety of other transgender people, whose stories he generously shares…. This is an important book that fills an urgent need."
— Michael Cart, Booklist starred review
"Clear, compelling, and profoundly moving, this book should be on every shelf of every pastor, every parent, and every Christian of good conscience who wants to engage the conversation about gender and sexuality with integrity…. It's rare to find a book that manages to be this intellectually rigorous and this readable at the same time."
—Rachel Evans, author of Searching for Sunday and Inspired
"This resource challenges false narratives about gender so often promoted in nonaffirming spaces and offers a richly biblical path forward in our understanding and embrace of trans individuals into the life of the church. Transforming is truly a game changer and one of the most important theological books to have been written in recent memory."
—Brandan Robertson, Lead Pastor, Missiongathering Christian Church, author and editor, Our Witness: The Unheard Stories of LGBT+ Christians
"In this timely book, [Hartke] gives the church a wonderful gift by amplifying the diverse voices of transgender Christians. He also issues an important, much-needed invitation, calling us all to faithful reexamination of what Scripture has to say about identity, gender, and community."
—Jeff Chu, author of Does Jesus Really Love Me? A Gay Christian's Pilgrimage in Search of God in America
Transforming
The Bible and the Lives of Transgender Christians
Austen Hartke
March 2018
9780664263102• 5.5" x 8.5" • 212 pages • Paperback • $16.00