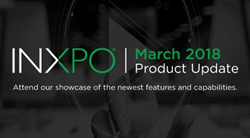 CHICAGO (PRWEB) March 22, 2018
INXPO's March 2018 Product Update highlights newly released features to their enterprise streaming platform, as well as compliance updates made to better serve the customer and attendee experience.
Following the new General Data Protections Regulation framework protecting European Union residents' data rights, INXPO's platform is now fully compliant as a data processor. All clients serving an EU audience will have GDPR registration pages enabled to allow users to reserve the "right to be forgotten" in a transparent manner.
"We value the trusting relationship we've built between our customers and their end-users; therefore, it was a top priority to make sure our data collection was tested to full compliance in advance of the May 2018 deadline," Rich Hawkinson, EVP Product at INXPO said.
In addition to data compliance, INXPO is committed to providing an optimal platform experience for all users, including those with disabilities. Standalone INXPO STUDIO programs have been equipped with the standards of Web Content Accessibility Guidelines 2.0 including: screen readers, key board navigations for low dexterity, and captioning/subtitles options.
Other feature additions include the release of the cloud-based Media Editor for editing recorded media content, and the expansion of presenter controls.
"The simple-to-use Media Editor makes perfecting any mistakes made in a live program quick and effective, so you can showcase your ideal content for on demand viewing," Ryan Vahey, Director of Product at INXPO said.
For more information regarding each release item, watch our March 2018 Product Update available on demand now.
About INXPO
INXPO is the video platform trusted by enterprises, built upon a secure, reliable and scalable foundation that has powered thousands of events and touched millions of users. From fully branded webcasts or online events, to enterprise video portals, our versatile products empower our clients to authentically reach their audiences. Built for marketing, corporate communications, sales enablement and training, our technology delivers engaging video experiences. Many of the world's leading brands trust INXPO to extend their reach, drive engagement and maximize ROI while meeting their business goals. Our customers include market leaders such as Aon, Cisco, Hyatt, IBM, Microsoft and several others.
To learn more about how INXPO can fit into your organization's communications strategy contact us at contactus(at)inxpo(dot)com or call us at (312) 962-3708.