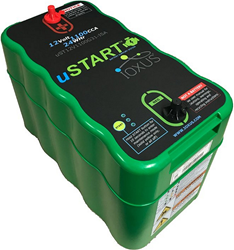 "With a solid foundation in ultracapacitor design and manufacturing, Ioxus has developed patented power management systems that are deployed across several applications where reliable, on-demand power is needed."
ONEONTA, NY (PRWEB) March 21, 2018
Ioxus, designers and manufacturers of smart power solutions based on its widely used ultracapacitor technology, today announced a new addition to its product lineup. The uSTART energy storage solution is now available for Classes 7 and 8 day cab trucks and tractors with up to 12-liter engines.
uSTART is a smart power solution that improves starting reliability and extends battery and starter life. Installed by the OEM or as a retrofit; as a drop-in Group 31 battery replacement, uSTART provides a level of starting power not available in typical batteries, particularly in tough duty cycles or cold weather. uSTART reduces the number of batteries a truck would require throughout its service life. In addition, uSTART systems reduce stress on starters and provide jumpstart capabilities.
"With a solid foundation in ultracapacitor design and manufacturing, Ioxus has developed patented power management systems that are deployed across several applications where reliable, on-demand power is needed", said Mark McGough, president and CEO at Ioxus. "uSTART smart power systems are already widely used in Class 6 models in package and other delivery truck markets. After extensive field testing, we are proud to announce that uSTART is proven to provide those same benefits to operators of Class 7 and 8 day cabs."
uSTART smart power systems are based on ultracapacitors, which are used as energy storage building blocks. The systems utilize smart power electronics to intelligently monitor, manage and control power on a vehicle's electrical bus, minimizing cycling on the remaining batteries. uSTART also has jump start capabilities, which eliminates costly and time-consuming roadside service calls for engine starting issues.
About Ioxus
Founded in 2007, Ioxus is a smart power company that designs and manufactures intelligent power and energy storage technology for transportation, alternative energy, medical, industrial and grid -connected markets. Designed and manufactured in the U.S., the company's uSTART and X-Series products are based on patented ultracapacitor technology. Ioxus is headquartered in Oneonta, NY, with sales, service and quick-delivery inventory. For more information, visit http://www.ioxus.com