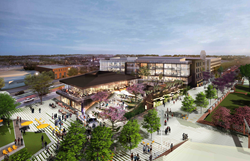 LOS ANGELES (PRWEB) March 23, 2018
Hackman Capital Partners, LLC, a Los-Angeles-based real estate investment firm and long-time Culver City stakeholder, announced today that Amazon will be occupying the entire 75,000-square-foot office portion of its new, mixed-use development, The Culver Steps.
The dynamic, four-story project is situated at 9300 Culver Boulevard in downtown Culver City, California, directly adjacent to The Culver Studios, the iconic television and movie studio, where Amazon Studios has already begun moving into the historic mansion and bungalows. The company soon will expand into newly developed office space at The Culver Studios, occupying a total of approximately 280,000 square feet by 2020.
Both The Culver Steps and The Culver Studios are owned by affiliates of Hackman Capital Partners.
"Amazon Studios is a world-respected, award-winning content producer," said Michael Hackman, founder and CEO of Hackman Capital Partners. "And we are thrilled to welcome them to Culver City."
In addition to the 75,000-square-foot office space at The Culver Steps, the transformative development will feature 45,000 square feet of curated retail space, a near-acre-sized public plaza with open green space and a two-level subterranean parking structure—making it a one-of-a-kind destination, not just for shopping and dining, but for outdoor movies, concerts and other special events. The project broke ground in November 2017 and is slated for delivery in early 2019.
Kennedy Wilson's Lee Shapiro and Christine Deschaine are the exclusive listing agents for the retail portion of The Culver Steps. CBRE's Jeffrey Pion represented the landlord in the recent Amazon Studio's office lease.
For additional information about The Culver Steps, visit theculversteps.com.
MORE ABOUT HACKMAN CAPITAL PARTNERS
Hackman Capital Partners is a privately-held, real-estate investment and operating company that focuses on commercial and industrial properties in major U.S. markets. Founded in 1986, Hackman Capital has conducted more than $3 billion in real estate transactions across 41 states—having owned, through affiliated entities, over 400 buildings totaling 35-plus million square feet. More than 6.2 million square feet of those properties have been located in California.
In addition to The Culver Steps, the company's most notable Culver City projects include The Culver Studios, a 14.3-acre media studio campus and future home of Amazon Studios, the Beats/Apple Southern California headquarters, and Westwood One Studios. Other projects currently underway include a 75,000-square-foot creative office conversion at 5500 West Jefferson Boulevard in Los Angeles and a creative campus conversion of 550,000 square feet of existing industrial and office buildings in El Segundo, which is slated to break ground in early 2018.
Hackman Capital Partners is headquartered in Los Angeles, and has additional offices in Boston, Chicago and Columbus. With its related entities, it employs a staff of 83 professionals.