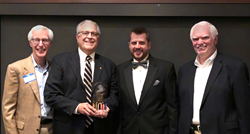 GRAND RAPIDS, Mich. (PRWEB) March 21, 2018
Grand Rapids Ophthalmology's Gregory Patera, OD, was awarded the Dr. Mark Sheldon Lifetime Achievement Award at the 13th Annual Grand Rapids Lions Club 'Blind Dinner Date' which took place Thursday, March 8. This award celebrates individuals who have made vision improvement and vision-loss elimination their passionate life's work both inside and outside their profession, especially for people from economically-challenged communities.
"Dr. Patera has been an optometrist for 45 years, and for the last 18 we've been proud to have him here at Grand Rapids Ophthalmology," said Robert Wolford, GRO's Executive Director. "His selfless contributions in reducing avoidable blindness have restored hope to many people's lives. This award recognizes not only Dr. Patera's outstanding professional efforts but is also a testament to his character. Above and beyond his dedication to patients, I am thankful to call him my personal friend."
The event was held at Thousand Oaks Golf Club in Grand Rapids where keynote speaker, blind race car mechanic and team owner Jay Blake, shared his story of vision loss at age 31 and subsequent journey to independence. Funds raised through the 'Blind Dinner Date' will provide children and adults with eye care through the Grand Rapids Lions Club Vision Clinic at Cherry Health, help children with special needs through the Special Eyes Program at KISD, assist individuals with blindness or severe low vision through the Association for the Blind and Visually Impaired, and support the charitable work of the Grand Rapids Lions Club.
Dr. Patera was received with heartfelt applause from the audience when accepting his lifetime achievement award. He has been a supporting member of the Lions Club since 1973; you can find him practicing at Grand Rapids Ophthalmology-Ionia where he provides routine eye care for patients of all ages.
About Grand Rapids Ophthalmology
Founded in 1982, Grand Rapids Ophthalmology (GRO) is the largest fully-integrated eye care medical group in West Michigan. It offers a full suite of eye care services from routine eye exams, contact lenses and glasses, to pediatrics, and the most advanced medical and surgical treatments such as LASIK, cataract, cornea, retina, glaucoma, and oculoplastics, including cosmetic and reconstructive eyelid surgery. GRO employs the largest number of eye care specialists and professionals in the region: 11 ophthalmologists, 20 optometrists, and 50 certified opticians; with a total of 400 employees at 12 locations. For more information, visit: http://www.seeitclear.com.