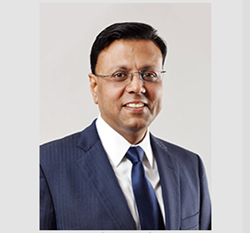 LONDON (PRWEB UK) 3 April 2018
Zensar, an RPG company and the management of Cynosure Inc., today announced that they have entered into a definitive agreement to acquire the US based Cynosure Inc. Cynosure focuses on providing Guidewire platform implementation services to Property and Casualty (P&C) insurance carriers and had 2017 revenues of about $20 million. Zensar's Insurance business spans global clients largely in the P&C space. The addition of Cynosure will enable Zensar to have platform capabilities for the insurance segment that will position the Company to grow faster in the fast-growing Insurance software market. The Insurance vertical currently accounts for approximately 15% of Zensar's total business.
Zensar Technologies Limited will acquire the entire share capital of Cynosure Interface Solutions Private Limited ("Cynosure India") and its wholly owned subsidiary, Zensar Technologies Inc. will acquire the entire share capital of Cynosure Inc. Cynosure Inc. is headquartered in Chicago, Illinois, USA. Cynosure India is headquartered and has an offshore development centre in Bengaluru, India. The acquisition will be funded by a mix of internal accruals and external debt.
This acquisition is a critical component of Zensar's 'Return on Digital®' strategy that works on creating significant business impact for clients through scalable digital transformation programs. Insurance companies worldwide are currently evaluating elements of their technology backbone to make their organizations digital ready. Many of them are still on legacy systems that limit their ability to leverage digital opportunities. Most insurers, especially in the P&C space, are moving to modern software platforms, such as Guidewire, as it enables them to not only create new experiences for their customers, but also helps them digitize a large part of their core insurance functions of Policies, Claims and Billing.
Announcing the acquisition, Harsh Goenka, Chairman of RPG Enterprises and Zensar said, "Insurance is one of the focus areas for Zensar. The combined capabilities of Cynosure, with its industry leading Guidewire capabilities in the Property & Casualty Insurance sector and Zensar's digital expertise will augment the Company's growth."
"The digitalization of the insurance sector with reference to its products, sales channels and consumer engagement is increasingly driven by digital technologies. Cynosure is a Guidewire partner, and is well respected in the market place, making them experts in this area. They bring successful implementations, providing core system modernization with rich customer relationships that will serve as a significant value addition to our offerings," commented Sandeep Kishore, Chief Executive Officer and Managing Director of Zensar.
"As part of Zensar, we have the opportunity to offer more robust integrated solutions combined with its digital transformational and infrastructure capabilities. Our expertise in Guidewire platforms have enabled our customers in the Property & Casualty Insurance space to reap long-lasting benefits which is now fortified by this combined entity." said Sid Wadhwa, CEO & Co-Founder, Cynosure Inc.
Zensar has been making rapid progress over the last few years in transforming itself into a digital led business. In a very short time the company has, through a mix of acquisitions and organic growth, begun generating over 38% of its business from the digital space comprising Automation, Machine Learning, Predictive Analysis and Blockchain technologies. Particularly, the acquisitions of Keystone Logic (US), Foolproof (UK), Professional Access (US) by Zensar in recent years has given the Company greater focus and deep capabilities in e-commerce and digital. Further, Zensar's cutting edge innovation hub called ZenLabs, located in Pune campus, is one of the finest exponents of its digital push. The company is emerging as a major player in its main segments of Retail, Insurance and Hitech, servicing global clients across 140 countries from its 29 global locations.
The Cynosure team of Guidewire experts are focused on simplifying core systems transformation. Each systems transformation is approached with the primary focus of helping an insurance carrier lower their total cost of ownership while delivering the highest possible quality. Cynosure has delivered extensive successful Guidewire projects, leveraging a deep understanding of Guidewire products to deliver innovative functionality and drive operational efficiency. The team consists of senior-level former Guidewire certified professionals with program management, systems architecture, systems integration, business intelligence, digital strategy and management consulting experience.
Post the acquisition, Cynosure will continue to be managed by the founders led by Sid Wadhwa, CEO & Co-founder. The management and team of Cynosure in the US and Bengaluru, India comprising of over 150 experts, will become a part of Zensar' s Insurance vertical.
About Zensar (http://www.zensar.com)
Zensar is a leading digital solutions and technology services company that specialises in partnering with global organisations across industries on their Digital Transformation journey. A technology partner of choice, backed by strong track-record of innovation; credible investment in Digital solutions; assertion of commitment to client's success, Zensar 's comprehensive range of digital and technology services and solutions enable its customers to achieve new thresholds of business performance. Zensar, with its experience in delivering excellence and superior client satisfaction through myriad technology solutions, is uniquely positioned to help them surpass challenges around running their existing business most efficiently, helping in their legacy transformation, and planning for business expansion and growth through innovative and digital way.
Follow Zensar via:
Zensar Blog: http://www.zensar.com/blogs
Twitter: https://twitter.com/Zensar
LinkedIn: https://www.linkedin.com/company/zensar-technologies
Facebook: https://www.facebook.com/Zensar
Catch our refreshed new website at: http://www.zensar.com
About RPG Enterprises (http://www.rpggroup.com)
Mumbai head-quartered RPG Enterprises is one of India's largest industrial conglomerates. With over 15 companies in its fold, the group has a strong presence across core business sectors such as Infrastructure, Tyre, IT and Specialty. Established in 1979, RPG Enterprises is one of India's fastest growing business groups with a turnover in excess of Rs 22,000 crore.
For any queries please feel free to reach out:
Aradhana Prabhu
Public Relations
Zensar Technologies
+91 9765999749
aradhana.prabhu@zensar.com
Safe Harbor
Certain statements in this release concerning our future growth prospects are forward-looking statements which involve a number of risks and uncertainties that could cause actual results to differ materially from those in such forward-looking statements. The risks and uncertainties relating to these statements include, but are not limited to, risks and uncertainties regarding fluctuations in earnings, our ability to manage growth, intense competition in IT services including those factors which may affect our cost advantage, wage increases in India, our ability to attract and retain highly skilled professionals, time and cost overruns on fixed price, fixed-time frame contracts, client concentration, restrictions on immigration, our ability to manage our international operations, reduced demand for technology in our key focus areas, disruptions in telecommunication networks, our ability to successfully complete and integrate potential acquisitions, liability for damages on our service contracts, withdrawal of governmental fiscal incentives, political instability, legal restrictions on raising capital or acquiring companies outside India, and unauthorised use of our intellectual property and general economic conditions affecting our industry. The Company does not undertake to update any forward-looking statement that may be made from time to time by or on behalf of the Company.