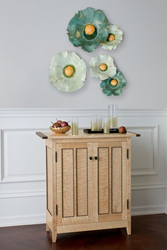 Traditional with a modern flair.
OCONOMOWOC, Wis. (PRWEB) April 07, 2018
Thomas William Furniture is headed to New Orleans at the end of April for The New Orleans Jazz & Heritage Festival. This Festival presents works by some of the nation's most talented artisans. The highly competitive juried Festival will feature approximately sixty artists each weekend. "I am honored to have been one of the chosen sixty artists to exhibit at this Festival. It is highly competitive to jury into this show and I am excited to be one of the sixty artists exhibiting the first weekend," said Tom Dumke owner of Thomas William Furniture. "Also, I was honored and thankful to receive an Award of Merit recently at the Gasparilla Festival of Arts." Selecting from a field of more than 250 acclaimed artists, juror René Paul Barilleaux, Head of Curatorial Affairs at the McNay Art Museum in San Antonio, Texas, selected the recipients of the 48th Annual Raymond James Gasparilla Festival of the Arts cash awards, $76,500.
The New Orleans Jazz & Heritage Festival is a joyous and spirited celebration showcasing the authentic music and heritage of Louisiana and New Orleans. It began in 1970 when 350 musicians entertained a crowd half that number in New Orleans' Congo Square. Now presenting its 49th event, the Festival is one of the most prestigious and well-attended in the nation, attracting hundreds of thousands of people annually. The Festival is owned by The New Orleans Jazz & Heritage Festival and Foundation, Inc., a Louisiana non-profit corporation organized to preserve and promote the music, arts, culture and heritage indigenous to Louisiana and the New Orleans area. A two-weekend event featuring twelve stages of music, plus art and traditional food, this outdoor daytime celebration is held on the park-like infield and in the grandstand area of the historic Fair Grounds Race Course.
Tom handcrafts solid wood furniture that is Shaker inspired and is traditional with a modern flair. The clean line of the Shaker form inspires the design, creating pieces sized proportionally for today's needs. The Shakers have had a profound influence on Tom's work: their clean unadorned simplicity, functionalism and craftsmanship. He also is influenced with a deep respect for the furniture craftsmen of the 17th and 18th centuries. Their knowledge of form, balance, joinery and of wood movement is evident in the pieces of fine furniture that still exist today. Thomas William Furniture is based out of Southeastern Wisconsin, Milwaukee metropolitan area. For more information, http://www.thomaswilliamfurniture.com