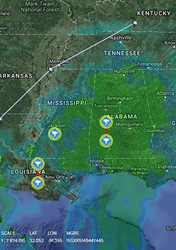 DisasterAWARE Enterprise brings into one platform an impressive set of global historical data, scientific modeling and solution tailoring capabilities that help any business from choosing a business site to preparing for natural disasters and recovery. Stephanie Atkinson Analyst Compass Intelligence
SAN JOSE, Calif. (PRWEB) March 22, 2018
With new records being set each year for natural disaster losses, enterprises face an ever-increasing need to be prepared. For decades, DisasterAWARE has served the needs of top agencies worldwide, including U.S. Department of Defense, Homeland Security FEMA, the United Nations, the Association of Southeast Asian Nations (ASEAN), and a variety of international humanitarian aid organizations. With over 1.7 million users of DisasterAWARE mobile app, Disaster Alert for the public, spanning 115 international organizations, Kaazing is helping to broaden the reach of this critical, life-saving technology to provide businesses with an enterprise-grade solution.
Kaazing's DisasterAWARE Enterprise, a cloud-based SaaS risk intelligence platform, offers the largest collection of scientifically verified global data for observations and incidents, predictive modeling, and hazard exposure and impact assessment. In addition to over 200 different data sources, the platform offers integrated alerting, collaboration tools, and monitoring of social media channels like Twitter to view hotspots of activity. DisasterAWARE Enterprise is optimized for use on multiple devices including PCs, tablets, and smartphones and is powered by Kaazing's latest generation of serverless connectivity technology enabling a seamless user experience. Differentiating features include, offline operation, access to traffic cameras, and the ability to import custom data such as the location of staff, offices, and supply chain routes.
Even more noteworthy, DisasterAWARE Enterprise is industry agnostic. It can be vertically integrated into the supply chain and logistics, and is well suited to protect a multitude of industries including travel, insurance, education, healthcare, utilities, finance, airports, mining, ports, retail, and other global enterprises.
"We are bringing an unparalleled depth of information and situational context, making it easy for enterprises to visualize threats, both in real-time and ahead of disasters, to protect business personnel, assets, and operational continuity," said Kaazing CEO Bob Miller.
"We are excited to bring the power of our DisasterAWARE risk intelligence platform to the Enterprise through partnership with Kaazing and to empower large and small businesses to take proactive steps in protecting their people, assets, and investments." said PDC Executive Director Ray Shirkhodai. "For well over a decade, under the University of Hawaii, PDC has been supporting top agencies and risk reduction initiatives around the globe with the most reliable information, science, and life-saving technology for disaster risk reduction."
Ray Shirkhodai Executive Director, PDC (Pacific Disaster Center).
http://www.pdc.org
"Effective crisis management is an essential foundation for sustained brand reputation," said Ken Rehbehn of CritComm Insights. "New cloud-based disaster preparation and management solutions are vital tools that help enterprises address potential disasters with speed to minimize disruption and boost customer satisfaction. By leveraging a broad array of timely data sources with powerful dashboards, business leaders gain the big picture as well as detailed views helping guide strategy and tactics should the worst come to pass." Ken Rehbehn, InsightsFounder and Principal Analyst, Critical Communications.
https://www.critcomminsights.com
"Cloud-based DisasterAWARE Enterprise, Risk Intelligence solution brings into one platform an impressive set of the global historical data, scientific modeling and solution tailoring capabilities that should help any business from a to z, choosing a business site to preparing for natural disasters and recovery after being impacted. Embedded Kaazing.io technology is a key-enabling asset, which helps scaling the platform for enterprises in a very compelling price point." Stephanie Atkinson, CEO, Founder & Principal Analyst, Compass Intelligence.
https://www.compassintelligence.com
About Kaazing:
Kaazing is the leading provider of event-driven, over-the-web connectivity. With Kaazing's enterprise-grade solutions, including an integrated application development environment, customers can securely and cost-effectively respond to digital consumers' demand for personalized services and support via real-time web and mobile apps. Furthermore, with Kaazing, customers can dramatically reduce the IT costs and time associated with merging and securing systems, and can move their services from on-premise to cloud to containers without requiring changes to their applications. Kaazing customers include one of the world's largest energy-producing and trading companies, three of the world's top ten banks, one of America's top three professional sports franchises, one of Europe's most sophisticated rail transportation networks and two of the top three transportation companies in the World. Kaazing: https://kaazing.com DisasterAWARE Enterprise: http://disasteraware.com
Press Contact: Virve Virtanen, +1 914 536 3712, virve.virtanen(at)kaazing.com
Watch DisasterAWARE Enterprise: Here
Images of DisasterAWARE Enterprise: Here
Product Information: Here