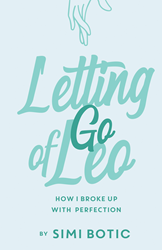 COLUMBUS, Ohio (PRWEB) April 02, 2018
Simi Botic used to believe that being perfect would make her feel lovable, like she belonged, and enough. Her long struggle with food came as a result of that perfectionism and her body served as a tool for manipulation in creating what she believed would make her 'more perfect.'
It wasn't until Botic let go of this fantasy and her control of food that she was finally able to be free.
"Letting Go of Leo" is Botic's memoir, chronicling her rocky journey from a life of thoroughly portioned meals, perfectly scheduled multiple mile long runs, and binge eating as a way to one of deep change and acceptance of body and self.
Written as if the author is confiding in the reader as a dear personal friend and covering a gamut of different emotions, the book details how it wasn't until Botic let go of the fantasy of who she thought she should be and what she believed life and her body should look like, that she began to discover how wonderful life really was.
"I wrote this book in order to help women everywhere with their perfectionism struggles and realize that there is a light at the end of the tunnel," Botic said. "You are not alone. If I could make a massive shift in my life and health, anyone who is struggling as well has the power to do it too."
In "Letting Go Of Leo," readers will join Botic on her personal journey to self-discovery, compassion, presence, and acceptance. Through highs and lows, tears and laughter, they'll learn to let go of perfectionism in all forms and discover how to show up for life's hard moments, good moments, and perhaps most importantly, to show up for themselves.
"Letting Go of Leo: How I Broke Up With Perfection"
By: Simi Botic
ISBN: 978-1-5043-9270-9 (sc); 978-1-5043-9271-6 (hc); 978-1-5043-9328-7 (e)
Available at the Balboa Press Online Bookstore and Amazon
About the Author
Simi Botic is a certified health coach, author, and speaker helping women fall in love with their beautifully perfect lives – food, body, and beyond. She has been featured in Refinery29, MindBodyGreen, and more. She currently lives with her husband, Tim, and young son, Alyosha, in Columbus, Ohio. For more information about the author and her book, please visit: http://www.simibotic.com.
# # #