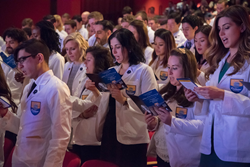 New Orleans, LA (PRWEB) March 22, 2018
The latest graduating class for the University of Queensland (UQ) – Ochsner Clinical School class celebrated Match Day results with an impressive 95% Match Rate through the National Residency Match Program (NRMP).
According to the NRMP the average national matching rate for medical school students was 94.3% for 2017.
Students matched into residency training programs at many prestigious institutions including UCLA, Vanderbilt, Emory University, University of Chicago, Dartmouth University, St. Louis University, Icahn SOM at Mount Sinai and in-state programs at Tulane University and LSU.
"We had 87 students enter the Match, our largest class to date, 37% of our Matched graduates have chosen to remain in Louisiana for residency training, with 23% staying in the Ochsner Health System," said Leonardo Seoane M.D., Regional Dean of the University of Queensland -Ochsner Clinical School. "The data demonstrates that physicians tend to practice in the state in which they train. We are proud to train future physicians in the 'Ochsner Way' who will care for us and our families while addressing the physician shortage in our state."
The class of 2017 UQ – Ochsner Clinical School students graduated in December 2017 and will begin their residencies in July 2018. This sixth graduating class spend the first two years of their medical school careers side-by-side their Australian colleagues in Brisbane. The Ochsner medical students spend the third and fourth years of medical school at the Ochsner Medical Center in New Orleans, Louisiana, where award-winning teaching faculties oversee their clinical education in a world-class medical center. The innovative medical education program, established in 2009, educates U.S. citizens on two continents.
Graduates matched in specialties including Orthopedic Surgery, General Surgery, Anesthesiology, Emergency Medicine, Family and Internal Medicine, General Surgery, Neurology, OB/GYN, Pediatrics, Pathology, Psychiatry, Diagnostic Radiology, and Interventional Radiology.
The University of Queensland Faculty of Medicine ranks as one of the world's Top 50 medical schools by U.S. News & World Report, and the university is renowned as one of the leading research institutions of the world. With a total enrollment of over 50,000 undergraduate, graduate, and professional students, the university is respected as a global powerhouse of innovation and education.
"Our program offers a unique, global medical school experience and our continued success on Match Day reinforces the outstanding education these future doctors are receiving," said William McDade, MD, Executive Vice President and Chief Academic Officer, Ochsner Health System. "For the sixth year in a row, our Match Rate has been 90% or higher. This is a credit to the quality of our students, our faculty and the program itself. We have a lot to be proud of."
The Ochsner Health System is one of the leading academic medical centers in the U.S. with 27 accredited graduate medical education programs and innovative undergraduate medical education programs focused on developing the next generation of health care providers. Ochsner Health System has been providing high-quality clinical and hospital patient care to Louisiana residents since 1942. Our healthcare family—today, comprising more than 18,000 employees and over 1,100 physicians in over 90 medical specialties and subspecialties—is driven by our commitment to Serve, Heal, Lead, Educate and Innovate, and that passion is shared with every person who passes through our doors.
For more information on the program, visit: https://medicine-program.uq.edu.au/ochsner-clinical-school. For more information on how to apply, visit: http://www.mededpath.org.