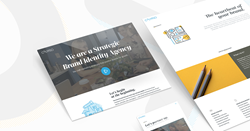 The new Calypso brand not only captures the essence of who we are today but positions us for the future.
PORTSMOUTH, N.H. (PRWEB) March 21, 2018
Calypso, a strategic brand identity agency, today unveiled its own brand strategy to reflect an 18-year evolution. The agency, formed in 2000 in Portsmouth and strongly rooted in public relations, acknowledges it serves today's clients with an increasingly diverse array of modern branding tools and skills. Calypso is widely acclaimed for its work in web, digital, marketing, identity, and reputation management across a broad range of industries.
"Message development and elite writing will remain our core strengths, but we've greatly expanded our team and technologies to best craft and protect client brands," said Kevin Stickney, Calypso's founder. "Our refreshed identity symbolizes the ability to achieve this through any written, interactive, electronic, or visual platform."
Calypso, formerly Calypso Communications, introduced a newly shortened name and redesigned website (calypso.agency) that prominently features the agency's work, talent, and culture. The visual identity emphasizes Calypso's own collaborative culture, and its commitment to delivering a unified brand experience to clients.
A certified HubSpot Partner Agency, Calypso created and developed its new website on the HubSpot COS for seamless integration with both marketing and CRM platforms. The website portrays the agency's five service areas: brand identity, web design and development, inbound and digital marketing, video production, and reputation management. It also features detailed case studies of work with key clients.
The web development process included a comprehensive brand audit, employee surveys, and interviews with agency team members and partners. It resulted in a new agency brand identity, including a new mantra: Create with purpose.
"When collaborating with our partners, we often create strategic roadmaps to align them for success. Throughout this process we ask them to reimagine themselves - to find their true identities," said Houssam Aboukhater, Calypso's managing partner. "So as an agency, it's important to show our clients how we imagine ourselves. The new Calypso brand not only captures the essence of who we are today but positions us for the future."
About Calypso
Calypso is a strategic brand identity agency that crafts marketing strategies to position brands for growth. Located in Portsmouth, New Hampshire, Calypso partners with its clients to build strong brands, create awareness, generate leads, and establish long-lasting relationships. For inspiring content and a comprehensive list of capabilities, please visit Calypso at http://www.calypso.agency.