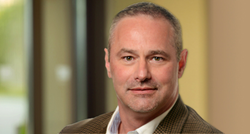 "We want to share what we've learned about blockchain with our TCA peers to encourage the trucking industry to embrace this innovative technology for increased productivity and optimization, and in turn higher profit margins."
CLEVELAND (PRWEB) March 21, 2018
Attendees of the Truckload Carriers Association's (TCA) annual convention will have three opportunities to benefit from TMW's discussion on blockchain technology as Timothy Leonard, TMW chief technology officer and 2017 Hortonworks Data Heroes Initiative Data Visionary award winner, presents Finding Your Place in the Blockchain Revolution at three different times during the convention.
"Blockchain technology's potential to disrupt almost every business market is undeniable, and its potential in the trucking industry specifically is extensive," said Leonard. "We want to share what we've learned about blockchain with our TCA peers to encourage the trucking industry to embrace this innovative technology for increased productivity and optimization, and in turn higher profit margins."
The TCA represents nearly 700 companies working in and serving the truckload freight industry and is the only national association whose sole focus is the truckload segment of the motor carrier industry. The TCA 80th annual convention will be held in Kissimmee, Florida at the Gaylord Palms Resort and Convention Center March 25 through 28.
Leonard will present three times over the course of three days with sessions set for Sunday, March 25 from 12:30 to 1:45 p.m., Monday, March 26 from 2 to 3:15 p.m., and Tuesday, March 27 from 12:45 to 2 p.m.
Blockchain technology is a continuously growing list of records, called blocks, linked and secured using cryptography. Its implementations in the trucking industry cross business segments and functions, which can improve processes from billing and payment to freight planning and fleet visibility. With open, distributed ledgers of information, trucking companies can modernize outdated and time-consuming processes plaguing the industry.
About TMW
TMW is working to transform the way the world moves freight through innovative transactional, visibility, decision support and optimization solutions. TMW provides software solutions for transportation management, fleet maintenance and management, business intelligence, bid management, freight visibility, final mile and routing, scheduling and dispatching. TMW is at the forefront of leading innovation in the transportation community through a number of initiatives. Among those initiatives are being a charter member of the Blockchain in Transportation Alliance (BiTA) and Blockchain Engineering Standards for Transportation and Logistics (BEST-L) along with its in.sight user conference. With over 2,000 customers, TMW is a Trimble brand (NASDAQ: TRMB) with offices in Cleveland, Dallas, Indianapolis, Nashville, Oklahoma City, Raleigh, Vancouver, and Melbourne (Australia).