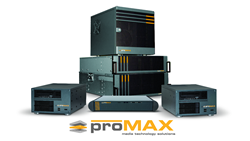 "Even when editing in native file formats, there is almost always a reason for some type of file conversion; whether delivering multiple file formats to your customer or using proxy files for previewing archived footage."
SANTA ANA, Calif. (PRWEB) April 09, 2018
ProMAX Systems, world leader in integrated workflow technology for creative media organizations, has announced increased support for GPU offloading of workstation and processor intensive transcoding tasks.
"Even when editing in native file formats, there is almost always a reason for some type of file conversion; whether delivering multiple file formats to your customer or using proxy files for previewing archived footage." said Nathaniel Cooper, COO of ProMAX Systems. "We have added support for 5 different GPU enabled graphics cards that now allow our customers to offload all of that processing to a centralized GPU shared by all workstations."
With an extensive line of professional codecs and formats supported including R3D, ProRes, AVCIntra, DNx and many more, editors and administrators can simply load footage to their disks and new file formats will be created in the background. These formats can be used for tasks from offline footage preview, online/offline workflows to file delivery, making it easy to access the type of file you need for the task at hand.
GPU encoding is supported across most Platform Workflow Servers including the Platform Studio, Platform Online and Platform Nearline server series.
For more ProMAX Platform™ visit http://www.promax.com or visit them at NAB booth SL8730.
About ProMAX Systems:
ProMAX is the world leader in integrated workflow technology for creative media organizations. For over 20 years, we've built a worldwide client base of tens of thousands of customers, helping them find the most efficient, cost effective and reliable solutions to solve their production challenges with our range of workflow servers, workstations and archiving technology. From ingest to edit, from playout to archive, we've evolved our thinking to focus on the real needs of our customers – bringing everything they need together in a truly integrated solution. Whether they are creatives working in Film/TV, broadcast, post production, education, government, corporate or other industries, our customers trust ProMAX to be at the heart of their creative process. Visit http://www.promax.com for more information.