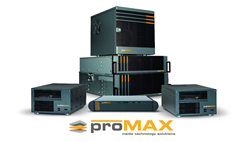 "Our customers are desperately trying to keep up with the amount of data that they are now required to manage. A fast, cost-effective, easy-to-use method for managing both backing up and archiving data is no longer a luxury but now a requirement."
SANTA ANA, Calif. (PRWEB) April 08, 2018
ProMAX Systems, world leader in integrated workflow technology for creative media organizations, has announced LTO8 support and product offerings across the ProMAX Platform™ Workflow Server product line up.
"Our customers are desperately trying to keep up with the amount of data that they are now required to manage. A fast, cost-effective, easy-to-use method for managing both backing up and archiving data is no longer a luxury but now a requirement." said Nathaniel Cooper, COO of ProMAX Systems. "With LTO8 our customers can now get read/write performance close to disk speeds, and easily get an entire off-site backup of a $30k server for under $1k in LTO tapes."
Administrators can set backup tasks on a repeating frequency and data will automatically be copied. After the backup, each file is recorded into the Platform's integrated catalog so that users can easily search and preview the files that are on their LTO tapes; then request bulk or individual file restores back to their Platform System.
ProMAX Platform LTO8 is now supported across all Platform Workflow Servers including Pro-Cache, Portable, Studio, Online & Nearline servers. The hardware is available as both stand-alone LTO8 drives or integrated into tape library systems. All LTO8 hardware is shipping today
For more ProMAX Platform™ visit http://www.promax.com or visit them at NAB booth SL8730.
About ProMAX Systems:
ProMAX is the world leader in integrated workflow technology for creative media organizations. For over 20 years, we've built a worldwide client base of tens of thousands of customers, helping them find the most efficient, cost effective and reliable solutions to solve their production challenges with our range of workflow servers, workstations and archiving technology. From ingest to edit, from playout to archive, we've evolved our thinking to focus on the real needs of our customers – bringing everything they need together in a truly integrated solution. Whether they are creatives working in Film/TV, broadcast, post production, education, government, corporate or other industries, our customers trust ProMAX to be at the heart of their creative process. Visit http://www.promax.com for more information.