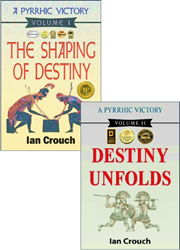 "Dr. Crouch succeeds splendidly in conveying a compelling interpretation of the lives and loves, the achievements and aspirations, of great men in a great age." – Dr. Eoghan Maloney, lecturer in ancient history at the University of Adelaide
(PRWEB) March 29, 2018
A Pyrrhic Victory refers to a win that comes at such a high cost that it may well destroy the victor. Written by history buff Dr. Ian Crouch, "A Pyrrhic Victory: Volume I, The Shaping of Destiny" has been racking up awards since it was first published. So has the author's sequel, "A Pyrrhic Victory: Volume II, Destiny Unfolds."
In 301 BC, about twenty years after the death of Alexander the Great, a young king named Pyrrhus of Epirus begins his career on the world stage in a battle that will change history. Hannibal later calls Pyrrhus the finest commander the world has ever seen, after Alexander.
This first book in a trilogy was a finalist in the 2013 National Indie Excellence Awards in the category of Faction (fiction based on fact). It also won the 2012 NABE Pinnacle Award in Historical Fiction, and the 2011 Independent Publisher Book Awards (IPPY) Gold Medal in Historical Fiction – Military/War category. The book also received a glowing review from the U.S. Review of Books, which bestowed a Recommended Rating. It was shortlisted for the Grand Prize in the 2017 Eric Hoffer Awards, was a First Horizon Award Finalist, and won Honourable Mention in Legacy Fiction.
The second volume of Ian Crouch's historical trilogy, "A Pyrrhic Victory: Volume II, Destiny Unfolds," begins in 295 BC and finishes with the Battle of Asculum in 279 BC. It is also a multiple award winner.
It won the Spring 2015 NABE Pinnacle Awards in the category of historical fiction, and was a 2015 Foreword Reviews' INDIEFAB Book of the Year finalist in war and military. The book was a finalist in the 2016 Annual Beverly Hills International Book Awards for faction (fiction based on fact) and military fiction, which wrote: "Your book truly embodies the excellence that this award was created to celebrate, and we salute you and your fine work." "Destiny Unfolds" was also named a finalist in historical fiction for the CIPA EVVY Awards.
Ptolemy, Pharaoh of Egypt. reinstates Pyrrhus as king of Epirus, making him a powerful figure in Macedonia as well as Epirus. Pyrrhus invades Italy and Sicily, disputing power with the Romans and the Carthaginians. He thus began the struggle between the Greeks and the Romans for dominance of the eastern Mediterranean. It was after his second victory against the Romans in 279 BC, where with heavy losses, he gave rise to the expression, "A Pyrrhic victory."
"Dr. Crouch succeeds splendidly in conveying a compelling interpretation of the lives and loves, the achievements and aspirations, of great men in a great age." – Dr. Eoghan Maloney, lecturer in ancient history at the University of Adelaide
About the Author: Dr. Ian Crouch is a medical practitioner in Adelaide, South Australia. Since his early days in medical school, his abiding interest has been Greek and Roman history. He is currently writing the third and final volume of "A Pyrrhic Victory," subtitled, "Fate."
"These two books in the award-winning series bring to life the ancient world in a way that will enthrall readers. We are proud to be the publisher." – Robert Fletcher, CEO of Strategic Book Publishing and Rights Agency
Watch the video book trailer at: https://www.youtube.com/watch?v=8dDhFx46-OI
A PYRRHIC VICTORY: VOLUME I, THE SHAPING OF DESTINY (ISBN: 978-1-60911-914-0) is available for $19.50. A PYRRHIC VICTORY: VOLUME II, DESTINY UNFOLDS (ISBN: 978-1-63135-646-9) is available for $30. eBook versions are available for $9.99. All books can be ordered through the publisher's website:
http://sbprabooks.com/IanCrouch or at Amazon.com or Barnesandnoble.com.
WHOLESALERS: These books are distributed by Ingram Books and other wholesale distributors. Contact your representative with the ISBN for purchase. Wholesale purchase for retailers, universities, libraries, and other organizations is also available through the publisher; please email bookorder@sbpra.net.