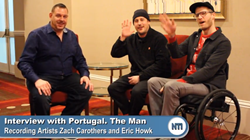 "It's kind of a trip to see how much of a life this thing has kind of taken on of itself." Eric Howk, Guitarist of Portugal. The Man
Boston (PRWEB) March 26, 2018
The Emmy-winning rock band Portugal. The Man has chosen to use their voice as a social factor in society to promote inclusion and to advocate for people with Disabilities. NTI's Director of Marketing Mike Sanders sat down with band members Eric Howk and Zach Carothers recently to say thank you and ask about the band's continued passion for social justice.
The interview covered the difficulties Howk faces due to the band's tour bus and many of the venues at which they perform having no accessible ways for him to navigate in his wheelchair. The problem is a common one, and recent changes in the Americans with Disabilities Act (ADA) have many people with disabilities worried about accessibility and inclusion. Howk expressed his surprise that accessibility and "threshold free loading" isn't more common in theaters since all the equipment they use could be rolled in and save time and effort. "If it's easy for me, it's easy for the crew, it's easy for everyone." Making all venues accessible would make sense for many reasons, and Howk and Carothers expressed their hope that venues will "just do it!"
The band has a special affinity for NTI and the support and job services they provide to Americans with Disabilities, partially because lead guitarist Eric Howk is disabled following an accident that left him paralyzed. The band has supported and spread the message of NTI since the summer of 2017 when a Public Service Announcement by Eric Howk was released to increase awareness of NTI's mission to provide work-at-home jobs for Americans with Disabilities. "It's kind of a trip to see how much of a life this thing has kind of taken on of itself," Howk commented in reference to the PSAs and social media efforts of NTI. Sanders noted that since 1 in 6 Americans has a disability, Howk's message has been heard by many people who have been helped or inspired by it. His message helps open a conversations about disability, whether visible or invisible. The PSAs have been picked up by over 400 stations across the nation and have been heard by millions of people. (Watch the PSA here: http://portugaltheman.nticentral.org/)
Sanders asked Howk to recall his initial response to being asked to do a PSA for NTI. Howk remembered that the band was "getting flooded with a lot of left-field offers….There's not a whole lot of undeniable yeses, but there was absolutely nothing that could keep me from aligning myself with something that is this true to home." Howk recounted the difficulty he experienced getting back to work following his spinal cord injury and said that aligning himself with the message of NTI was a "no brainer." He noted that NTI's job services provide opportunities and open doors to Americans with disabilities that wouldn't otherwise be available. "I just love that [NTI] is kind of a tool kit for that," Howk stated. "You are taking away some of the anxiety in the process, and I think that's huge!"
Watch the full interview here: https://www.youtube.com/watch?v=d32PsKEFHFM&feature=youtu.be
# # #
About NTI: National Telecommuting Institute. Inc (NTI) is a 501 (c)(3) (http://www.nticentral.org) non- profit organization with headquarters in Boston, MA. It has been supporting Americans with disabilities since 1995. NTI provides training and job services in work at home positions across the United States through their NTI@Home and LandAjob.org programs. NTI pioneered staffing virtual call centers with Americans with Disabilities, including Disabled Veterans, who work from home.
About "Portugal. The Man": "Portugal. The Man" is an American Indie pop/rock band from Wasilla, Alaska. The group consists of John Gourley, Zach Carothers, Kyle O'Quin, Jason Sechrist and Eric Howk. Gourley and Carothers met and began playing music together at Wasilla High School, and the band is proud of its Alaskan roots. The band has been with Atlantic Records since 2010. "Portugal. The Man's" Feel It Still won "Best Pop Duo/Group Performance" at the 60th Annual Grammy Awards last January.
About Atlantic Records: Atlantic Records (http://www.atlanticrecords.com) was founded in 1947 by Ahmet Ertegun and Herb Abramson, both avid music fans and record enthusiasts. Their passion for artist development made Atlantic Records the home of choice for legendary artists including Aretha Franklin, Led Zeppelin, Ray Charles, Otis Redding, The Rolling Stones, Cher, Genesis, Cream and many more. With over 60 years of recorded music history, our passion for artistry in music continues today as a new generation of incredible artists including Bruno Mars, Coldplay, fun., Jason Mraz, Ed Sheeran, Wiz Khalifa, Janelle Monáe, Skrillex, Trey Songz, Hunter Hayes and more continue to further the Atlantic Records legacy.