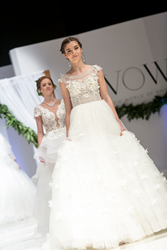 There is a lot of buzz in the industry about what is happening in Atlanta . - Carrie Huyett, owner of Carrafina Bridal.
ATLANTA (PRWEB) March 22, 2018
VOW | New World of Bridal® showcases must-have looks for brides, mothers of the bride, and wedding parties with styles for special occasions, accessories and more April 10–12, 2018, at AmericasMart®. The expansive collection—augmented by an additional 70,000 square feet of fashion-forward merchandise—features top designers debuting new looks for fall/winter 2018.
The new Floor 14 collection is a must-see showcase of new-to-Atlanta showrooms and expanded spaces for longtime Market exhibitors including Addison Ames, ASHLEYlauren, Ava Presley, Beside Couture by Gemy, Cachet, Carrafina Bridal, Carmen Marc Valvo Bridal, Gemy Maalouf, Jovani, Justin Alexander, Lotus Threads, Mac Duggal, Primavera Couture, Saboroma, Tuxedo Avenue and Your Party Shoes.
"There is a lot of buzz in the industry about what is happening in Atlanta," says Carrie Huyett, owner of Carrafina Bridal. "Opening a permanent location in the new Floor 14 collection was the obvious choice for us. The timing is right, the location is right, and the services provided by AmericasMart are just right."
Across the three dedicated floors of social occasion product, leading lines are taking new spaces and expanding their footprints. New showroom Amelia Couture (Floor 10) and Jessica Angel (Floor 14) join the collection alongside expansions from Amy Holton Designs (Floor 12), Fernando Wong Couture (Floor 12), Morrell Maxie (Floor 14), Nox Anabel (Floor 10), Ritzee Designs (Floor 10) and Stefanie Somers (Floor 12).
Enhancing the permanent offerings is a trend-driven temporary collection highlighted by new lines Bzara Bridal, Daisy Corsets, Evelyn Bridal and Laine Berry. VOW's trend incubator, THE COLLECTIVE, features a must-see collection including Badgley Mischka Bridal Shoes, Creations by Lynette, Darby John Designs, De Blossom Collection, Design by Conception, Everything Angelic, Feriani, Lauren Lorraine, Shibue Couture, Teri Jon, The Bride Accessories and Yolanda Arce.
"The spring VOW | New World of Bridal Market presents a special buying experience for retailers," says Mary Sullivan, senior vice president of Leasing for Buildings 2 and 3. "Fashion-forward collections let them refresh gown offerings, top-notch education helps them grow their businesses, mesmerizing fashion shows provide the ultimate inspiration, and the ability to explore ready-to-wear trends keeps them up to date on their customers' style choices. It's the perfect combination for discerning retailers."
VOW's signature educational programming begins on April 9 with the Pre-Market Day of Education. Bridal retailers will enjoy an afternoon of thought provoking and business-building content highlighted by the semi-annual Experts Panel featuring Brenda Norman and Liz Stoner of Normans Bridal in Springfield, Miss. and Ramona Southard of Love & Lace Bridal and Tailor in Irvine, Calif., and moderated by Meredith Bullock, vice president, Bridal & Marketing at Anya Bridal / Savvi Formalwear in Atlanta, Ga. Also on Monday, Ben Reed of PitchMaps teaches a five-point blueprint for making sales pitches more effective followed by a Marketing workshop lead by Bullock and Jessica Limeberry, owner of Sophia's Bridal, Tux, and Prom. Wedding photographer, painter, educator and podcaster Jenna Kutcher kicks off the Market sharing how to be "Social Media Savvy" on Tuesday, April 10. Wendy Rivera of "Do You Speak Bride?" shares the top five things that will make or break a bridal boutique in the next five years in "How David Beat Goliath" on Wednesday, April 11 and "The Secrets to Standing out and Moving up Without Burning out or Shutting Down" on Thursday, April 12.
The VOW Market's can't-miss fashion show takes place Tuesday, April 10, in the Atlanta Apparel fashion theatre. The show celebrates fall/winter 2018 trends with a focus on deep and rich color palettes, and luxe velvet and silk fabrics.
VOW | New World of Bridal® is co-located with the April Atlanta Apparel Market, which takes place Tuesday, April 10 – Saturday, April 14, 2018. For more information, visit http://www.AmericasMart.com/VOW.