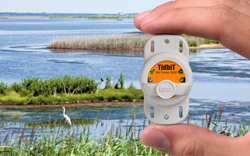 BOURNE, Mass. (PRWEB) March 22, 2018
Onset, a world leader in data loggers, today announced that the geophysical laboratory of the University of Washington School of Oceanography has selected HOBO® MX2200 Series water temperature data loggers for seismic data monitoring as part of the Alaska Amphibious Community Seismic Experiment (AACSE).
North America's largest recorded earthquakes take place in southwest Alaska, reaching magnitudes of up to 8 and 9 on the Richter scale. AACSE, a large community experiment funded by the National Science Foundation, will deploy an array of 75 ocean-bottom seismometers (OBSs) on and off the Alaska subduction zone to better understand the seismic and tsunami hazards facing coastal U.S. communities.
Through its work with AACSE, The University of Washington will use MX2200 Series Bluetooth Low Energy (BLE)-enabled data loggers integrated into OBSs to monitor turbidity currents, the marine landslides that cascade down from continental margins. These currents may be triggered by either local or more distant earthquakes, and the resulting flow of sediment can create tsunamis that inundate coastal communities.
All OBSs in the experiment are being instrumented with MX2204 water temperature loggers to help identify any correlations between temperature and seismic-related activity. They will be deployed starting in May 2018 and then recovered in late 2019 after providing around-the-clock recording of data for 18 months. The data loggers deliver high accuracy and research-grade performance, and can support water depths of up to 1,000 feet. Because MX2200 Series data loggers are BLE-enabled, researchers will be able to remove the loggers from the water and wirelessly access temperature readings from their mobile phones or tablets.
"Even though 90% of earthquakes occur in the Alaska subduction zone, the ocean bottom of this offshore region has only seen limited monitoring to date," said Paul Johnson, a professor for the University of Washington School of Oceanography. "The accuracy and ruggedness of Onset's MX2200 Series temperature data loggers will play an important role in capturing data that will give us new, more detailed insights into the oceanic activity that affects communities on the Alaskan coast."
"For decades, we've been committed to supporting environmental research with water temperature loggers that meet the highest levels of accuracy, reliability, and performance," said Paul Gannett, senior product marketing manager at Onset. "We're honored that the University of Washington selected our HOBO MX2200 Series data loggers for this important research into the impacts of seismic and tsunami hazards on coastal communities."
About Onset
Onset is a leading supplier of data loggers and monitoring solutions used to measure, record, and manage data for improving the environment and preserving the quality of temperature-sensitive products. Based on Cape Cod, Massachusetts, Onset has been designing and manufacturing its products on site since the company's founding in 1981. Visit Onset on the web at http://www.onsetcomp.com.
###
CONTACT
Onset Media Relations
508-743-3181
http://www.onsetcomp.com
media@onsetcomp.com