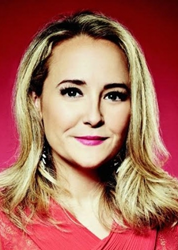 CHICAGO (PRWEB) April 11, 2018
Becker's Hospital Review welcomes Alexa von Tobel, founder and CEO of LearnVest.com, and 112 other talented medical professionals as speakers for its Health IT + Clinical Leadership 2018 Conference, May 10 to 11 at the Swissotel in Chicago.
Alexa von Tobel dedicated her career to demystifying the consumer experience when it comes to financial planning. As the founder of LearnVest.com, Ms. von Tobel built an online platform aimed at making financial planning affordable, accessible and delightful. She is often tapped as an expert by major news outlets and hosts a weekly radio show on SiriusXM called "Financially Fearless with Alexa von Tobel." She will present a keynote address May 11.
As the chief patient safety officer and director of the Center for Advancing Patient Safety at Stanford Healthcare, Mitesh Rao, MD, guides the health system's patient safety, innovation implementation and system redesign strategies. He will draw on his experience integrating innovative technologies at Stanford to improve patient care in a variety of settings, as well as his work with innovators and researchers across the university and at a number of startups from around the country. Dr. Rao will join a panel of experts for a discussion on health IT and clinical leadership May 10.
Andrew Rosenberg, MD, is an expert in initiating and maturing a variety of organization and implementation strategies to address socio-technical issues and advance learning in health organizations. As CIO, Dr. Rosenberg guides Michigan Medicine's IT services and divvies up a $168 million annual operating budget, a $20 million annual capital budget, and a $150 million installed IT core asset base. Additionally, he is trained in internal medicine, and he completed residencies in anesthesiology and critical care medicine. Dr. Rosenberg will join a panel of experts May 10 to discuss healthcare, IT and the political environment.
Becker's thanks its corporate partner, BE Smith, Inc., for its title sponsor support of this event.
To hear Shark Tank's Kevin O'Leary and other great keynotes and speakers, join Becker's Hospital Review at its Health IT + Clinical Leadership 2018 Conference May 10-11 by registering here: https://www.regonline.com/registration/Checkin.aspx?EventID=2082181 or contact Jess Cole by email at jcole(at)beckershealthcare.com or by phone at 312-929-3675
For the complete conference brochure, click here: https://www.beckershospitalreview.com/health-it-cmo-cno-roundtable/
About Becker's Hospital Review
Becker's Hospital Review is a monthly publication offering up-to-date business and legal news and analysis relating to hospitals and health systems. Articles are geared toward high-level hospital leaders, and we work to provide valuable information, including hospital and health system news, best practices and legal guidance specifically for these decision-makers. Each issue of Becker's Hospital Review reaches more than 18,000 people, primarily acute care hospital CEOs, CFOs and CIOs.