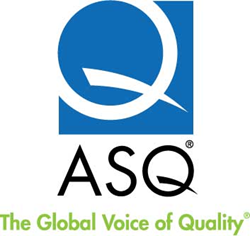 MILWAUKEE (PRWEB) March 22, 2018
ASQ will present its Honorary members, Distinguished Service Medals and 12 other society medals April 29 in Seattle, prior to its annual World Conference on Quality and Improvement.
ASQ is the leading authority on quality and recognizes recipients for their innovative contributions and achievements in quality. Winners' exemplary achievements are representative of the ideas and tools that make our world work better.
Each individual will be recognized during ASQ's annual business meeting, Sunday, April 29.
Honorary ASQ Member
Honorary members are individuals who have made enduring contributions to the profession of quality and the allied arts and sciences. Election is restricted to individuals who are so well known and so clearly pre-eminent in the profession that there should be almost no doubt of their being worthy of such recognition. The 2018 Honorary members are:

Ronald D. Snee, Founder and President, Snee Associates LLC, Newark, Del.
Geoff Vining, Professor, Department of Statistics, Virginia Polytechnic Institute and State University, Blacksburg, Va.
Distinguished Service Medal winners
ASQ's Distinguished Service Medal represents the highest distinction for service from ASQ and honors the lifetime contribution of any person who has been recognized as a long-term enabler, catalyst or prime mover in the quality movement. The Distinguished Service Medals for 2018 have been awarded to:

Janet Raddatz, Sargento Foods Inc., Plymouth, Wis.
Steven Paul Bailey, Steven P. Bailey LLC, Wilmington, Del.
2018 Society Medals

Feigenbaum Medal presented to Ali Masoudi, US BCSD, Austin, Texas
Shewhart Medal presented to Christine M. Anderson-Cook, Los Alamos National Laboratory, Los Alamos, N.M.
Shainin Medal presented to Cristobal Samaniego, Ann Arbor, Mich.
Lancaster Medal presented to Daniel Edward Sniezek, Lockheed Martin (retired), Binghamton, N.Y.
Crosby Medal presented to Elizabeth A. Cudney, Missouri University of Science and Technology, Rolla, Mo.
Crosby Medal presented to Tina Kanti Agustiady, InnovaNet, Tampa, Fla.
Hromi Medal presented to Gary K. Griffith, Griffith Training, Corona, Calif.
Grant Medal presented to James E. Breneman, Engineering and Quality Solutions, Easley, S.C.
Hutchens Medal presented to KoAnn Vikoren Skrzyniarz, Sustainable Brands, San Francisco
Edwards Medal presented to Linda Westfall, Westfall Team Inc., Montague, Texas
Brumbaugh Award presented to Heng Su, Wells Fargo, Charlotte, N.C.
Brumbaugh Award presented to C.F. Jeff Wu, Georgia Institute of Technology, Atlanta
About ASQ
ASQ, headquartered in Milwaukee, Wis., USA, is a global community of people dedicated to quality who share the ideas and tools that make our world work better. With individual and organizational members in more than 140 countries, ASQ has the reputation and reach to bring together the diverse quality champions who are transforming the world's organizations and communities to meet tomorrow's critical challenges.