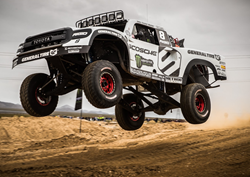 OXNARD, Calif. (PRWEB) March 22, 2018
Scosche Industries is pleased to announce that it is again partnering with Camburg Off-Road Engineering and Camburg Racing signing on as the title sponsor for the 2018 race season. The deal includes a comprehensive package of brand exposure opportunities for Scosche including name/logo recognition on all Camburg trucks, race vehicles, race vehicle trailers and RV's along with placements on team apparel and driver's race suits.
"It takes great design, exceptional engineering and unwavering durability to compete in off-road racing. Scosche makes products that fit this definition perfectly. Their consumer tech and powersports products in particular provide our team with dependable performance and superior functionality whether we are using them in the garage or on the course," stated Jerry Zaiden, owner of and truck race driver for Camburg Off-Road Engineering. "We are happy to have them as a title sponsor for the 2018 season."
"We are thrilled to sponsor a seasoned team like Camburg Racing as we continue to expand the scope and diversity of our sponsorship/ambassador program, which now spans many sports and lifestyle segments," stated Chris Cowles, Director of Marketing at Scosche. "Their dedication to the sport of off-road racing is a solid fit with our active outdoor lifestyle focus and coalesces well with our expanding presence in the powersports arena."
Camburg plans a busy off-road race schedule for 2018, as it competes in the Best In The Desert Racing Association Racing Series starting with the race in Parker, AZ on 2/1 – 2/4/18 Parker, the Mint 400 in March in Las Vegas, the Silver State 300 in Alamo, NV and more.
About Camburg Off-Road Engineering:
Camburg Engineering is the leader in off-road suspension systems and is at the forefront in technology and design. Our over-the-counter parts are being race tested constantly and have won numerous championships, so if you are looking for the most proven long travel or performance suspension systems, Camburg is your #1 choice.
About SCOSCHE (pronounced skōsh):
Founded in 1980, SCOSCHE Industries is an award-winning innovator of consumer technology, powersports and car audio products - committed to delivering superior product quality and functionality, exceptional value and unmatched customer service. The designers and engineers at SCOSCHE develop products that reflect a rich heritage in audio and mobile technologies. SCOSCHE finds inspiration in the California lifestyle, culture, music and people. These influences can be seen in the accessories and products that are now in the hands, homes, offices and vehicles of people in over 50 countries. With hundreds of patents/trademarks and countless industry awards received, it is easy to see why SCOSCHE is consistently at the forefront of technology and innovation.
Follow @SCOSCHE on Twitter, Facebook, GOOGLE+, Instagram , Pinterest and LinkedIn for the latest news on all of the company's award-winning consumer tech and car audio products and accessories. Also visit our company Press Room and the company BLOG accessible via the company's website.