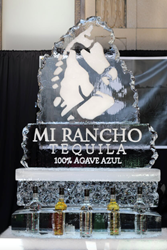 Dollar for dollar, it is as good as any spirit in any category on the market today
KANSAS CITY, MISSOURI (PRWEB) March 23, 2018
The Comida KC Committee announces Award Winning Mi Rancho Tequila has been chosen to be the Presenting Liquor Sponsor for Comida 2018. The partnership between Mi Rancho Tequila and Kansas City's premier Latin culinary event COMIDA makes perfect sense. This experience, which will be held this year on Thursday, April 26th at Union Station, is the ideal opportunity for the community to find out for themselves what the company promises, "a premium tequila at an accessible price". Attendees will have the opportunity to sample both signature cocktails, crafted for this event, and more importantly to Dean, the product, straight and pure. For Dean, "The taste says it all. Once they realize how smooth Mi Rancho Tequila is, they are sold".
Is there such a thing as a local tequila? Technically no, only a spirit made, produced and bottled from Blue Weber agave in Mexico is to be considered tequila. Owner, Kansas City native Michael Dean and his family, distill their premium tequila from 100% blue agave in the Los Altos region, of Jalisco, Mexico but operate Mi Rancho Tequila from right here in his home town.
Mi Rancho Tequila was born from his wife's, and his desire to leave a legacy to their six children based on their shared Mexican heritage. Launched less than two years ago, Mi Rancho's three profiles, Silver, Reposado and Añejo, have garnered an impressive award collection, going up against higher-priced well-known premium tequilas. In fact, Mi Rancho is the only tequila to garner major awards on three continents in the last year. Most recently Mi Rancho Tequila's Reposado profile received a Gold Medal in the prestigious New York "TheFiftyBest.com" blind tasting. Mi Rancho Tequila has quickly become a local favorite, available at many retail liquor outlets and restaurants in Missouri and Kansas, earning rave reviews. According to one local bartender, "Dollar for dollar, it is as good as any spirit in any category on the market today".
This will be Mi Rancho Tequila's second year of involvement with Comida, reinforcing their commitment to their heritage and community. Mi Rancho has been recognized by the Kansas City Consulate of Mexico, for "Outstanding Support and Extraordinary Commitment in promoting Mexican Culture", by the Puerto Rican Society of Greater Kansas City for "Contribution and Support of Educational Scholarships" and received the 2017 Hector Barreto, Sr. "New Small Business of the Year" award from the Greater Kansas City Hispanic Chamber of Commerce.
About Mi Rancho Tequila: The journey began in Jalisco in 2008, where the Dean-Lozoya family was determined to bridge the divide between premium taste and affordability. Premium tequila of course had to begin with 100% Blue Agave, planted in the ideally fertile soils of Jalisco, home of all highly-regarded tequilas. The harvested product is then cooked using the autoclave method, which allows optimum control of the temperatures for ideal cooking, reducing the cost of production. The result is a clean true agave taste when the juices are extracted. Unique to Mi Rancho Tequila is their proprietary yeast, which is made from the same Weber Blue Agave plant that is the basis of our tequilas. This hand-formulated yeast is organic in nature and gives the tequila a cleaner and crisper presentation. Rather than regular distillation, a slow distillation process is implemented, which burns off more impurities, as well as methanol concentrates. The result is captivatingly smooth and pure. The Maestro Tequilero, Sr. Hector F. Davalos Abad, is a highly respected and skilled expert with over 50 years in the business of tequila distillation, over the course of which he has been responsible for the development of the profiles of several highly esteemed brands.
Mi Rancho is available locally at many restaurants and retail liquor outlets, it will soon be available for order online at miranchotequila.com.
About Comida 2018: Comida is Kansas City's first Culinary Arts event that showcases the cuisines of Latin America, Brazil, & Spain. The event includes visiting celebrity chefs, local chefs, restaurateurs, and cutting edge mixologists. Comida educates the community about the diversity and variety of Latin cultures through unique cuisines, specialty cocktails, visual and performing arts. Event proceeds benefit the educational programs of the Greater Kansas City Hispanic Collaborative (GKCHC), the HCCGKC's 501c3 sister organization. Tickets are available at comidakc.com.
Comida 2018, Thursday, April 26th, Union Station, 30 West Pershing Road, Kansas City, MO 64108