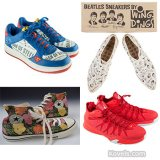 CLEVELAND (PRWEB) March 24, 2018
We're in the midst of March Madness and while basketball fans are enjoying the games, "sneakerheads" – and the Kovels – are looking to see what new sneakers can be spotted on the courts.
Sneaker collecting is an organized hobby these days. Collectors have hunted for game-worn or player-signed sneakers for as long as sports memorabilia has been collectible, but now sneakers are being collected by people who are drawn to the styles, designs and trading value, as well as the celebrities and players whose names they bear.
Sneakers weren't popular collectibles until 1984, when Michael Jordan wore Air Jordans during a basketball game and was fined $5,000. Nike and Adidas started making limited edition sneakers by 1985, and soon investor sneakerheads were buying, selling and raising the prices of "old" sneakers.
In 2017, a pair of Michael Jordan's sneakers auctioned for $190,372.80, setting a record for the highest price paid for a pair of game-used sneakers. The Converses were worn in the final basketball game of the 1984 Olympics, won by the United States team over Spain. They had his autograph and came with his orthotic inserts. Before that, in 2013, a pair of Michael Jordan's Nike Air Jordans sold at auction for $104,765.
Here are 7 pairs of sneakers sold recently at auction with their prices:
1) Converse All-Star high top sneakers, pattern designed by Andy Warhol, size 11, $88;
2) Nike Air Jordan 1 Royal, 1985, blue and black, size 10 1/2, $310;
3) Shaquille O'Neal issued and signed "Clark Kent" sneakers, designed by O'Neal's marketing company, early 2000s, size 22 (O'Neal's size), $456;
4) Beatles lace-up sneakers by Wing Dings, canvas, Beatles' faces and facsimile signatures, original box, 1964, size 6 1/2, $750;
5) Nike Air Yeezy, signed by Kanye West, size 10, $2,000;
6) Nike Air Jordan 4 Retro KAWS, cool grey and white, 2017, size 11, original box, $1,500;
7) Nike Jordan CP3, game-worn by Chris Paul, L.A. Clippers, in 2015, size 12 1/2, $240.
Collectors are inspired by sports or fashion, brand or style, but some just love them all. Some showcase their collection by buying sneakers in their size and wearing them. Others collect only brand-new shoes in original boxes and never wear them. Some display them; some keep them stacked in their boxes. Some stand in line for hours trying to get the newest style or model. Others won't buy into the "newest release" hype and refuse to stand in line, preferring instead the thrill of the hunt.
Sneakers are now included in antiques and collectibles auctions, some sneaker specific, as well as online. Also look for sneakers in shops and at special events like art and design shows. Or go to Sneaker Con, a traveling event for shoe fanatics that was first organized in 2009. It brings together shoe sellers, customers who are buying and trading. There are deals to be had, especially on older models. Look for "deadstock" – brand new, never worn, older, perhaps outdated or discontinued, stock, usually sold in its original box.
Terry Kovel is America's foremost authority on antiques and collectibles. She is the well-known columnist and author of more than 100 books on antiques and collecting. The 2018/50th anniversary edition of Kovels' Antiques & Collectibles Price Guide is currently available at Kovel.com and local bookstores. Terry Kovel will discuss antiques and collectibles topics with accredited media. Photographs are available. Contact pr(at)kovels(dot)com. .
About Kovels.com
Kovels.com, created by Terry Kovel and her daughter, Kim Kovel, provides collectors and researchers with up-to-date and accurate information on antiques and collectibles. The company was founded in 1953 by Terry Kovel and her late husband, Ralph. Since then, the Kovels have written some of America's most popular books and articles about antiques, including the best-selling annual Kovels' Antiques & Collectibles Price Guide. The website, Kovels.com, online since 1998, offers more than a million free prices, and includes a free weekly email, "Kovels Komments." It gives readers a bird's-eye view of the market through the latest news, auction reports, a Marks Dictionary, readers' questions and answers and much more.
Contact Information:
Liz Lillis
216.752.2252
Pr(at)kovels(dot)com