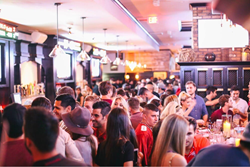 Taking networking to the next level
MIAMI (PRWEB) March 24, 2018
Get ready for Cocktails and Networking! American social is more than just a gastropub. It's a place where you can learn more about premium spirits, the history behind the brands and easy DIY cocktail recipes, all while connecting with other young professionals. Perfect way to spend a hump-day evening with other like-minded people.
Our March event provides you with networking opportunities to connect with a diverse group who all share a love for a good cocktail and responsible drinking. Top Miami Mixologist will share secrets and tips on making a great drink. Visit our website, at http://www.miaunder40.com to reserve and secure your spot. With a few surprises up our sleeve, you don't want to miss this opportunity to connect.
American Social is a dream built by two longtime college friends wanting to share their vision of creating a place where anyone could kick back and enjoy themselves, where All-American tradition and values live on and new memories would be made. The first location in Las Olas opened up in 2012 and a second location in Brickell followed in 2015. Since then, American Social has grown into a loved concept by many and soon to be experienced around the country with more upcoming locations.
Miami Under 40 is focused on bringing networking back to real life. Join us where young professionals connect.