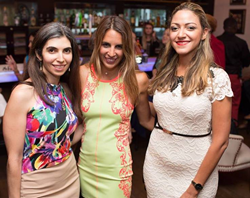 Attracting like-minded people in fun environment with a drink responsible message.
MIAMI (PRWEB) March 27, 2018
Miami Under 40 is going to Wynwood. MU40's first ever event taking place at Rácket Wynwood on Wednesday, April 11th at 7pm-10pm. This is yet another great opportunity to connect with successful young professionals in a fun and engaging environment.
Wynwood is unrivaled when it comes to its unique spaces teeming with impressive art. Wynwood has grown into Miami's trendy art scene, serving as a popular destination for all – especially during the monthly artwalks, when restaurants, bars, art studios and galleries are popping with music and drinks. Miami Under 40 has its finger on the pulse of whats makes millenium community move.
Take a look around at the new splashy Wynwood's bar called Rácket all while connecting with other young professionals. Staying in trend and getting to know like-minded people gives the perfect chance to extend professional network. When there is nothing to do Wednesday evening, come to Wynwood.
MU40's April Mix & Mingle event provides networking opportunities to connect with a diverse group who all share a love for a good cocktail and music. Visit the website, at http://www.miaunder40.com to reserve and secure spot. With a few surprises up event's sleeve, guests don't want to miss this opportunity to connect.
Rácket features two rooms with different environments made with materials like zinc and black rolled steel, live wood, mirrored glass, and neon lights. The atrium area is decorated with couches and has a more laid-back vibe, while the main room has more of the party atmosphere Miami is known for with an industrial ceiling, skylights, and plenty of music.
Miami Under 40 is focused on bringing networking back to real life. Join us where young professionals connect.