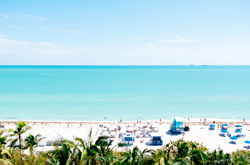 "We wanted to give people a sense of the places that provide sun- and heat-deprived Spring Break travelers with a consistent bounty of fun in the sun," says Resonance President and CEO Chris Fair.
NEW YORK (PRWEB) March 27, 2018
Resonance Consultancy, leading global advisors in real estate, tourism, and economic development for countries, cities and communities, is pleased to announce the 2018 World's Best Cities for Sun Seekers, a ranking of the 10 best-performing cities across the categories of Air Quality, Sunshine, Parks and Outdoor Activities.
The firm's World's Best Cities ranking is the most comprehensive city ranking on the planet, based on an entirely original methodology that uses the opinions of the people who matter most: visitors and residents. The world's best cities for sun seekers is a subset of Resonance Consultancy's 2018 global city ranking.
Resonance Consultancy's World's Best Cities ranking analyzes and compares 23 factors in six key categories using a combination of core statistics and online ratings and reviews—from TripAdvisor reviews, Facebook check-ins, Google searches and Google Trends. This helps cities understand their strengths and weaknesses through the lens of the people who visit and live in each city.
"March, and the Spring Break season in general, is one of the busiest travel times of the year," says Resonance President and CEO Chris Fair. "We wanted to give people a sense of the places that provide sun- and heat-deprived Spring Break travelers with a consistent bounty of fun in the sun. Afterall, we create place-branding strategies, tourism and economic development plans and trend reports for city, tourism and economic development organizations every day, and part of that is using our data to quantify ways people can enjoy great places."
A COMPREHENSIVE RANKING OF THE WORLD'S BEST CITIES FOR SUN SEEKERS
Where to go if you want all-but-guaranteed great weather and even greater outdoors.
We explored the number of quality parks and outdoor destinations, air quality index scores and hours of sunshine to determine the best cities in the world for sun seekers, just in time for Spring Break!
1. San Diego
The city's lauded perch on the extreme, sunny, Pacific-kissed bottom left of the country has long attracted surfers, adventurers and the outdoorsy types for a reason.
2. Las Vegas
Sin City has almost 300 days of annual sunshine. Its recent placemaking and embrace of the outdoors is finally building on its natural bounty.
3. Dubai
The shopping capital of the Middle East is building out as much as up, with food trucks, zoos and newly opened beaches.
4. Tucson
Some of the freshest urban air on the planet meets Mother Nature's Stairmaster by way of the surrounding mountains and, increasingly, new parks and bike lanes.
5. Miami
Miami's alchemy of immigrant hustle and hedonism has always coaxed frozen northerners. A new sense of pride and city building means Miami keep surprising new and returning visitors.
6. Barcelona
Yes, there's the unrivaled architecture. But the devotion to aesthetics also flows into new investments in outdoor monuments, parks and waterfront projects.
7. San Francisco
Hallowed perches, life-affirming Californian vistas and even free whale watching from the Golden Gate Bridge. In "Everybody's Favorite City," going indoors means risking missing something epic.
8. Los Angeles
The raw ingredients were always there. Finally, The City of Angels is taking ownership of its parks, trails and promenades. And of course nowhere else rewards renting a convertible like L.A.
9. Cape Town
Cable cars, wild beaches and imposing summits as backdrops for it all make this mythical African city a pilgrimage for the planet's sun-worshipping sophisticates.
10. Sydney
With one of the world's best-ranked park systems, and seemingly as many beaches as smiling locals, this diverse city—fresh water, oceans, hills and lush corners—demands more hydration and sunscreen than you ever thought possible.
ABOUT RESONANCE CONSULTANCY
As leading advisors in real estate, tourism, and economic development for three decades, Resonance combines business strategy and marketing creativity to shape the future of communities, cities and countries. Across the fields of place development strategy, place marketing, placemaking and place branding, Resonance partners with developers, planners, architects, DMOs, economic development agencies and others to make places more livable, enjoyable and economically sustainable. The team has completed more than 100 visioning, strategy, planning, policy and branding projects for destinations and developers in more than 70 countries. To learn more about Resonance and their services, please visit http://www.ResonanceCo.com and @ResonanceCo.
ABOUT BESTCITIES.ORG
Best Cities is the home of Resonance Consultancy's exclusive ranking of the world's top urban destinations. Best Cities rankings are underpinned by the most credible source of city performance—the true opinions and rankings based on the experiences of visitors and residents alike. Our ranking's exclusive methodology quantifies and benchmarks the relative quality of place, reputation and competitive identity for global cities across multiple factors using core statistics and online ratings and reviews. The Best Cities Finder lets users discover their ideal cities based on interests and priorities. The weekly newsletter keeps users up to date on the places that matter to them. Follow us @BestCitiesOrg and #BestCities. GET YOUR FREE 2018 WORLD'S BEST CITIES REPORT. The free 2018 World's Best Cities Report is available at ResonanceCo.com/BestCities2018. All 100 cities are profiled at BestCities.org, including a city finder that surfaces cities based on user preferences—from parks to nightlife—using Resonance Consultancy's proprietary data.
FOR MORE INFORMATION OR INTERVIEWS, PLEASE CONTACT:
SARA FAHY
Vice President, Strategy & Communications
Resonance Consultancy
+1-949-887-4476
sfahy(at)resonanceco.com