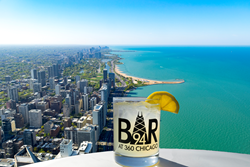 "We have purposefully created a one-of-a-kind entertainment experience for our guests with our 360 ChiSeries. Bar 94 gives guests an opportunity to relax and toast the spectacular city views with local brews and distilled spirits," says Nichole Williamson, 360 CHICAGO general manager.
CHICAGO (PRWEB) April 04, 2018
360 CHICAGO Observation Deck offers unparalleled views overlooking Chicago's skyline, lakefront and neighborhoods, giving visitors a unique perspective of the city's finds. With its brand new 360 ChiSeries, the 94th-floor attraction adds some Chicago heart and soul with daily activities featuring vendors and products that give visitors an insider's connection to local favorites – most included with the price of general admission.
"We have purposefully created a one-of-a-kind entertainment experience for our guests with our 360 ChiSeries," says Nichole Williamson, general manager for 360 CHICAGO, home of the one-of-a-kind TILT thrill ride. "Bar 94 gives guests an opportunity to relax and toast the spectacular city views with local brews and distilled spirits crafted by small business owners who've invested in Chicago's neighborhoods. By featuring something new every day of the week, we hope to serve many interests and inspire repeat visits from locals and visitors alike," she adds.
Designed to enhance the 94th floor experience for all ages through December 30th, 360 CHICAGO's lineup of programming offers extras for families, photographers, architecture fans, artists, music lovers, and yoga enthusiasts. Locals with a 606 zip code are eligible for the budget-friendly 606 Resident Appreciation Rate, earning a 50 percent general admission savings year-round. Most activities are included for free (exceptions: 360 Sky Yoga and monthly paint-and-pour classes).
The 360 ChiSeries includes:

Mondays: 360 Tripod Monday is the only day of the week when visitors can bring camera tripods between 9 a.m. and 10:30 p.m. onto the 94th floor observation deck. Photography Ambassador Nick Ulivieri, a renowned local photographer, will lead several classes including the upcoming Storm Photography Workshop on April 30. Follow @360Chicago for details and dates for additional classes.
Tuesdays: 360 Sky Guide ambassadors offer tours of Chicago from above between 12 noon and 8 p.m. The 360-degree views along the tours complement insights offered into Chicago history and unique facts that can't be found in any guidebook.
Wednesdays: 360 Sky Art weekly invites painters and illustrators to bring an easel and canvas to the observation deck between 9 a.m. – 10:30 p.m. to capture the unparalleled scenes below. 360 CHICAGO provides plastic floor covering and a chair. Additionally, monthly paint-and-pour classes hosted by Bottle & Bottega are offered. Reservations are required for the $45 class that includes one beverage from Bar 94.
Thursdays: 360 Hoppy Hour presented by Revolution Brewing and KOVAL Distillery, both pioneering beverage businesses based in Chicago, features craft beer specials and original cocktail recipes inspired by Chicago's neighborhoods, plus a big-screen TVs, board games and DJ entertainment by MODE events from 5:30 -8:30 p.m.
Fridays: 360 Sky Trivia games are hosted by Nicole Kawell from 6 – 8 p.m. each week. Kawell tests participants' Chicago IQ with six rounds of questions ranging from pop culture to academia. Teams register to compete for prizes during the games offered every Friday now through June, and again September through year end.
Saturdays: 360 Sky Yoga ($15 fee) features one-hour classes at 9 a.m. led by professional instructor Ashley Christensen during this limited-space class. Yoga enthusiasts practice sun salutations, gentle flow movements, breath-centered movements and more 1,000 feet closer to the sun. Pre-registration required.
Sundays: 360 Sunday Funday invites kids 12 and under to TILT for free between 9 a.m. – 4 p.m. Additionally, guests enjoy kid-friendly sleight of hand magic and soothing music performances between 1 – 3 p.m. featuring Myster AJ magic and Mr. Dave Music.
The one-of-a-kind observation deck is one of Chicago's top attractions and located in 875 N. Michigan Avenue (formerly the John Hancock Center).
Observation Deck Hours and Pricing
Open 365 days a year from 9:00 a.m. to 11:00 p.m., the last ticket is sold at 10:30 p.m. General admission: $21 for adults (ages 12+); $14 for youth (3-11); free for children under 3. The 606 Resident Appreciation Rate offers those with proof of 606 zip code residency a 50 percent savings on general admission. Additional ticket options are available online.
TILT Pricing
TILT costs $7 per person and tickets do not include admission to the observation deck. Guests first purchase a valid on-site admission ticket to gain access to the observation deck and TILT. Tickets can be purchased online or in person at 360 CHICAGO's ticketing desk, based on availability.
360 CHICAGO is located at 875 N. Michigan Avenue, 94th Floor in Chicago, IL. For information, weekdays 9:00 a.m. to 5:00 p.m., call 312-751-3681. All other times, please call 312-654-2892. Follow on social media through Twitter and Instagram: @360Chicago; Facebook: 360 Chicago. Visit http://www.360chicago.com for information.