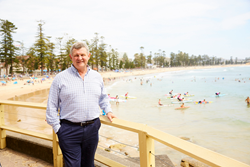 For the team at Avoka – we've been growing rapidly and working with some of the largest and most successful banks & financial institutions all around the world. This award is a testament to their quality, enthusiasm and hard work."
DENVER (PRWEB) March 23, 2018
Philip Copeland, CEO and Co-Founder of Avoka, was named Entrepreneur of the Year last night at the Fintech Business Award ceremony held in Sydney, Australia. The Fintech Business Awards recognize outstanding innovation and entrepreneurship in the Australian financial technology (fintech) sector. Based in the Sydney suburb of Manly, Avoka is a software-as-a-service company delivering digital customer acquisition and onboarding journeys for banks worldwide. For opening accounts, applying for loans, or onboarding businesses, Avoka creates an outstanding digital customer experience.
"I'm very honored to win the Entrepreneur of the Year award – thanks to Fintech Business Awards for helping raise the profile of this very important and exciting industry," said Mr. Copeland. "To the team at Avoka. We have an absolutely brilliant team of nearly 260 employees– we've been growing rapidly and working with some of the largest and most successful banks & financial institutions all around the world. I learnt long a long time ago the importance of building a very smart and high quality team – and this award is a testament to their quality, enthusiasm and hard work."
The award was accepted on stage by Avoka Co-Founder Howard Treisman, while Mr. Copeland was at the Avoka North American headquarters in Denver, Colorado. Mr. Treisman added, "Phil is the absolute epitome of an entrepreneur, and I couldn't imagine a better or more deserving recipient."
Mr. Copeland and Mr. Treisman founded Avoka in 2002 in Manly, and it has evolved to become a world leader in software to enable the digital transformation of financial institutions. In the past two fiscal years, Avoka has recorded order growth of 52% and 79%, while increasing headcount nearly 200% across offices in North America, Europe and Australia.
In December 2017, Avoka announced its latest capital raise of AUD$16million, led by the Australian office of Moelis & Co. Mr. Ben Wong, Managing Director of Moelis Australia, worked with Mr. Copeland on two financings. He stated, "Phil has the fluidity that has seen him continue to evolve the product and the business, the tenacity that great entrepreneurs need and the support of a first-class team - which has seen the business continue to experience significant growth and achieve impressive business results."
Winners for the 2018 Fintech Business Awards are listed at: https://www.fintechbusiness.com/fintech-business-awards/winners/2018-winners
About Avoka
Avoka creates customer acquisition and onboarding journeys in financial services, government and other industries. For account opening, lending applications, and business onboarding, Avoka Transact creates outstanding experiences that accelerate customer acquisition and time to market. Avoka was founded in 2002 and has digitized over 100 million transactions for 150+ global clients. Avoka is based in Sydney, Australia; Denver, CO; and London, England. Visit us at http://www.avoka.com/.