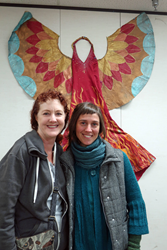 Makerspaces are giving cutting edge opportunities to Sierra College students to learn new technologies through hands-on experiences
ROCKLIN, Calif. (PRWEB) March 26, 2018
Sierra College students are preparing for careers through relevant maker experiences as a result of a $350,000 CCC Maker Grant, awarded in July 2017 by the California Community College Chancellor's Office, Workforce and Economic Development Division, under the Doing What MATTERS for Jobs and the Economy framework.
Students are gaining in-demand innovation, entrepreneurial and technical skills as a result of Sierra College collaborating with three community makerspace partners. Sierra College students, staff and faculty members are learning in the makerspaces as well as developing new maker curriculum and digital badges for specific skills. As part of the statewide CCC Maker community with 24 other community colleges, Sierra College is offering student internships and embedding making into the college experience. Funding from the CCC Maker grant supports full-time personnel integral to the continuing development of partnerships with Hacker Lab, Truckee Roundhouse and Curious Forge makerspaces near the Rocklin, Truckee and Nevada County campuses respectively.
The college is already seeing student leaders emerge, explained Willy Duncan, Sierra College Superintendent/President. "Savanna Turner, engineering major, is participating in the international Stanford University Design School Innovation Fellows program as a result of the CCC Maker initiative," said Duncan. "Savanna has plans to spread an entrepreneurial mindset throughout our campus. Makerspaces are giving cutting edge opportunities to Sierra College students to learn new technologies through hands-on experiences, connect with businesses and prepare for careers in emerging industries that fuel economic development."
According to Kim Bateman, Dean of the Tahoe-Truckee Campus of Sierra College, the grant and partnership with Truckee Roundhouse has opened up amazing opportunities for students. "Integrating makerspaces into education is the most exciting thing to happen in my educational career," said Bateman. "Students learn so much from experimentation and collaboration. For example, art students in our two-dimensional design course are discussing design in the classroom, going upstairs to the Sierra College computer lab to layout original projects in Illustrator, and then taking their digital files over to the Truckee Roundhouse to program their work to be executed on the laser cutter. It's the perfect bridge between theory and real world applications."
A Sierra College student has been hired to be a Maker-in-Residence at Truckee Roundhouse, explained Bateman. "Sierra College art students learned safety and equipment operation at the makerspace and then signed up for four open studios, supervised by the Student Maker-in-Residence, to complete their projects," said Bateman. "We are planning a new developmental math class next fall where hands-on projects will be integrated into the curriculum and students will learn the technology to actualize their designs in the Truckee Roundhouse makerspace. Similarly, in partnership with the Tahoe Truckee Unified School District, Adult School students learn design skills, come to the Sierra College computer lab to digitize the projects, and then make their projects at Truckee Roundhouse."
According to Steve Hunter, Sierra Makerspaces Faculty Maker-in-Residence, Sierra College faculty members have participated in professional development to learn new digital and technical skills as well as incorporate making and entrepreneurship into curriculum. Zack Dowell, Faculty Lead, Folsom Lake College Innovation Center, also conducted faculty professional development on integrating making into the curriculum at the Curious Forge makerspace in Nevada City.
Additionally, faculty members have been invited to bring their families to the makerspaces for fun events to make projects on the spot. "Katie Lucero, Mathematics faculty member, worked with me to organize Halloween and Holiday maker nights with an amazing team of over 60 students, college volunteers and community members at Hacker Lab powered by Sierra College," said Hunter. "Over 100 people of all ages attended both events. Participants made holiday gifts for people in need, and donated $700 and a van load of food to the Sierra College food closet."
For students, makerspaces create opportunity beyond the classroom, explained Hunter. "Naima Pagano, Sierra College fashion student, came to Hacker Lab seeking access to the industrial sewing machines," said Hunter. "She soon created her own business repurposing old garments into new creations. Then, Naima took her maker experience to Curious Forge, started teaching textile arts, became the manager of the Forge's textile space and now has a paid position as the Program Developer for Curious Forge."
According to Hunter, Sierra College students or former students are now makerspace instructors in areas such as 3D printing and Arduino microcontroller programming and interfacing. "Sierra College students, Kenny Penaluna and Heather Lincoln have become instructors and leaders in the Rocklin Hacker Lab makerspace," said Hunter. "Kenny developed welding curriculum, set up the makerspace welding area, and teaches classes related to gas and electric welding /cutting. Heather developed the laser cutter curriculum and teaches laser cutting principles to include the graphic design software."
Partnerships have leveraged the CCC Maker grant funding to impact more students, explained Sierra Makerspaces Director, Dominic Felipe Gutierrez. "The Sierra College Foundation with US Bank funded student makerspace memberships for those enrolled in Business 141 and Mechatronics 90," said Gutierrez. "In partnership with the City of Rocklin, the Rocklin Mini Maker Faire held at Sierra College in October 2017 introduced over 8,000 residents to making. Hacker Lab powered by Sierra College has also hosted events with Soroptimist International Loomis Basin club to make dresses for girls in orphanages." Additionally, Sierra College participated in two maker activity booths in the Truckee area, the Truckee Mini Maker Faire and the other at the Annual Truckee Airshow, and brought the Sierra College mobile welding lab.
This spring, Gutierrez said that Sierra Makerspaces will be arranging 30 internships for Sierra College students with local employers. "The CCC Maker grant offers funding for 20 hours of internship experience and we are currently seeking business interested in interviewing interns," said Gutierrez. "We held the first student training in January to certify students in 'ready to work' skills. Aleda Vaughn, Sierra College Welding faculty member, delivered New World of Work (NWOW) Modules on Communication, Analysis/Solution Mindset and Entrepreneurial Mindset." Employers interested in placing interns or participating as mentors are encouraged to contact Valaine Donaghue, Internship Coordinator, Sierra Makerspaces, at valaine(at)vhoffmann.com or 530-305-6700.
Contact Dominic Gutierrez at (916) 913-2708 or dominic(at)SierraMakerspaces.com and follow Sierra Makerspaces on Twitter @SierraMakers, Facebook @Sierra College Makerspaces and Instagram @sierracollegemakerspaces.
Learn more about the statewide CCC Maker initiative, overseen by Sierra College and supporting 24 California Community colleges in instituting makerspaces at their colleges.
Sierra College District is rising to the needs of our community. Sierra College serves 3200 square miles of Northern CA with campuses in Roseville, Rocklin, Grass Valley, and Truckee. With approximately 125 degree and certificate programs, Sierra College is ranked first in Northern California (Sacramento north) for transfers to four year Universities, offers career/technical training, and classes for upgrading job skills. Sierra graduates can be found in businesses and industries throughout the region.