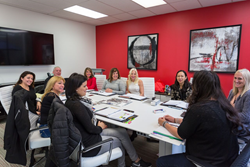 This is the best decision I could have made for myself. I knew I wanted a program that was hands-on and provided the support I needed and that is what I got at The Academy. I was so thrilled with the staging course I took the interior design course so I could handle more types of design clients.
LOS ANGELES (PRWEB) April 25, 2018
The Academy of Home Staging and Design offers a week-long format for home staging and interior design courses. Not only does each student walk away with the applied skill of design principles in home staging or design, students are also walked through how to run a successful business.
Owner and Founder, Kim Kapellusch says "One of the aspects that makes our program so unique and successful is that we are here to coach and mentor students through every aspect of their journey including during the training and after graduation. Most programs do not have personalized support catered to the individual at any point during or after training, leaving students to fend for themselves through out the entire process. Its one of the key elements that determines the success of the graduate in their field and one that we decided had to be a part of our programs. "
Over the course of one week, each student is personally guided step by step through The Academy's unique process of experiential learning, beginning with the essentials while building toward advanced business and design acumen. Each student will walk away with everything needed to start a design business whether in home staging or interior design. To ensure each student's success, The Academy also offers postgraduate support. This support program includes email and phone coaching for any questions that arise in the field.For those interested in The Academy of Home Staging and Interior Design, The Academy offers $200 off tuition for those that pay in full 90 days prior to the course.
Check out all upcoming course dates here:
May 14 - 18th, 2018 - The Academy of Interior Design course in Los Angeles, CA
September 17 - September 22nd, 2018 - The Academy of Home Staging course in New York, NY
September 24 - September 28th, 2018 - The Academy of Home Staging course in Los Angeles, CA
October 15 - 19th, 2018 - The Academy of Interior Design course in Los Angeles, CA
Call (800) 574-5576 to speak with a career advisor.