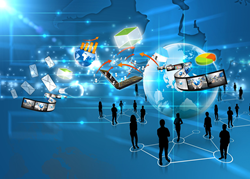 In the competitive real estate market place, real estate office managers and brokers are concerned with agent recruitment and retention.
PLEASANTON, Calif. (PRWEB) March 23, 2018
VirtualTourCafe, a nationally recognized leader in real estate virtual tours and property websites offers new solution for real estate agents and broker offices, streamlining the marketing department for small to large real estate offices.
Until now, real estate agents and broker offices had to use multiple service providers to create virtual tours, single property websites, print flyers and virtual staging.
"In the competitive real estate market place, real estate office managers and brokers are concerned with agent recruitment and retention. Anything we can do to simplify technology and marketing to help attract and retain agents, is our goal." – said Tim Denbo, President & Co-Founder of VirtualTourCafe, LLC.
Recently, VirtualTourCafe announced the new EZ-AutoTour™ for automated hands-free creation of a marketing suite for real estate agents and brokers, including a virtual tour, print flyer, video tour, and more, all done with little to no agent interaction… automagically, hands free using a custom IDX feed provided by the association or broker.
The VirtualTourCafe EZ-AutoTour™ feature allows a real estate association or brokerage to offer their members an automated tool to create a suite of marketing solutions. The marketing suite includes a virtual tour, print flyer and video, all hands-free. The agent can then customize, add video clips, panoramas, Matterport 3D scans, and more if desired.
And now, VirtualTourCafe has added a new Premium Property Website virtual tour theme based on the new parallax website technology to create a custom single-property-website, that some agents are spending hundreds of dollars to create and is now included in the suite of marketing tools.
These solutions are just part of the new broker office subscription program. In addition, VirtualTourCafe recognized that virtual staging and photo enhancement are services every real estate agent needs to have in their tool box. As a result, RealEZPhotoFix was developed to offer an easy to use, inexpensive solution integrated into the VirtualTourCafe suite of services and discounted for the Broker Office Solution. Now real estate agents can fix their photos, turn gray skies blue, or even add virtual staging to turn an empty, cold room into a warm inviting space, all from the same company.
The real estate virtual tours industry has been evolving over the years. Real estate virtual staging, single-property websites, aerial drone and video and has become more widely used as well as the new Matterport 3D doll-house and walk-through scans. VirtualTourCafe has responded each time to offer a product that meets the needs of today's real estate professional.
The new VirtualTourCafe Broker Office Solution includes the ability to create property website virtual tours using multimedia and virtual staging, all from the same, one-stop-shop, opening new doors for small to large broker offices and associations looking for an easy, affordable marketing solution for their agents.
About VirtualTourCafe.com
VirtualTourCafe is a limited liability company headquartered in Pleasanton, California with clients coast to coast and in three countries. The business offers real estate associations and brokerage site-licensing as well as individual agents Do-It-Yourself subscription service and full-service professional photography in a growing number of select markets.
About RealEZPhotoFix.com
RealEZPhotoFix is an online photo enhancement and virtual staging service owned and operated by VirtualTourCafe, LLC. Services include virtual staging, photo enhancement to help the do-it-yourself agent turn good photos into great photos, gray-skies to blue-skies, object removal and floor plans, using a team of highly skilled designers and photo enhancement specialist.