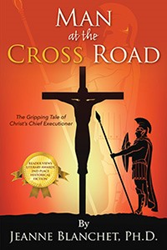 Jeanne Blanchet's book 'Man at the Cross Road' is the gripping story of Marcus Casca, the exactor mortis who headed the death squad that crucified Jesus.
DENVER (PRWEB) March 23, 2018
Outskirts Press is pleased to announce that one of its authors has been named finalists in the 30th Annual Independent Book Publishers Association (IBPA) Benjamin Franklin Awards. The Denver-based self-publishing service provider, named the No. 1-rated self-publishing company by Top Consumer Reviews, has had numerous award-winning authors in past years. This year, they wish to congratulate author Jeanne Blanchet for making it to the final round in the competition with her historical fiction "Man at the Crossroad."
Award-winning artist, writer, lecturer and musical performer Jeanne Maxant Blanchet graduated summa cum laude from Northwestern University, earned an M.A. from Arizona State University and a Ph.D. from Hawaii. Memberships include P.E.O., National League of American Pen Women, Phi Beta Kappa, Sun Health Foundation and the American Contract Bridge League. Her artwork appears in public and private collections throughout the U.S. and abroad. Blanchet's book "Man at the Cross Road" is the gripping story of Marcus Casca, the exactor mortis who headed the death squad that crucified Jesus.
The Benjamin Franklin Awards are among the most respected book awards in the country and recognize excellence in both editorial and design. The book genres are judged by industry professionals in the library, bookstore, reviewer, designer, publicity and editorial profession. Nearly 1,500 books published in 2017 were submitted for awards in 54 categories, with only three or four books being named as finalists in each.
The category winners will be announced during a special IBPA Benjamin Franklin Award ceremony April 6, 2018, at the Sheraton Austin Hotel at the Capitol in Austin, Texas. Winners also receive an engraved crystal trophy. All winners and finalists are announced to the major trade journals and media.
Outskirts Press wishes to congratulate Jeanne Blanchet for her compelling book and for this recognition. This title and many others are available from major online retailers like Amazon, Barnes & Noble, Powell's, Books-A-Million and elsewhere – not to mention through the Outskirts Press Bookstore at a considerable discount. For more information about Outskirts Press and its self-publishing and book marketing options, visit the company's website, http://www.outskirtspress.com.
About Outskirts Press Inc.: Outskirts Press helps authors develop and publish high-quality books by offering exceptional design, printing, publishing, distribution and book marketing services. Top Consumer Reviews ranks Outskirts Press No. 1 because they are passionate about delivering outstanding customer service, affordable pricing, industry-leading royalties, and a team of hands-on, U.S.-based publishing experts. At http://www.outskirtspress.com authors can publish their books, their way, today.
Outskirts Press Inc., 10940 S. Parker Road, #515, Parker, CO 80134
http://outskirtspress.com 1-888-OP-BOOKS