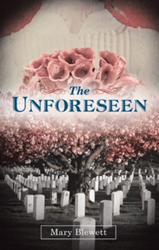 LOWELL, Mass. (PRWEB) March 23, 2018
Set in the New England locations of Beverly, Salem, Lynn and Boston, Mary Blewett's "The Unforeseen" (published by Archway Publishing) offers a different perspective on the Civil War. Like the movie "Cold Mountain," this new novel explores how ordinary people, especially young women, faced unequaled losses and an unknown future.
As the main character, Jenny Hutchins's grandfather insists: "There is nothing is so bad as civil war. Neither side wins. Both sides lose. No one will be forgiven. This war has brought changes that cannot be stopped."
"The Unforeseen" captures the experiences of a New England generation whose expectations the bloody, brutal consequences of Civil War battles deeply disrupt. Jenny Hutchins leaves home to seek independence and self-support, while her sister Betsey stays on the farm, marries an English immigrant, and has a family.
This novel will speak to women of all ages who move into new areas of work.
An excerpt from "The Unforeseen":
As the train approached the village station, Jenny began to feel that she had changed, but Beverly had not. She was now used to streets paved with granite, steam power in factories, and her own place of work. She easily made new acquaintances with her relatives and her shopmates in a big industrial city. She enjoyed living outside the scope of her family and Beverly and had been for the most part undaunted. Still, changed or not, she was very glad to be home.
On arrival in Beverly that afternoon, Jenny saw Betsey and Gilbert waiting for her in the pony cart at the station. One look at Betsey's waist confirmed that she was indeed pregnant. Jenny felt a stab of jealousy, as sharp and burning as a hornet's sting. She ducked her head to hide her feelings as best she could.
"The Unforeseen"
By Mary Blewett
Hardcover | 5.5x8.5 in | 384 pages | ISBN 9781480854925
Softcover | 5.5x8.5 in | 384 pages | ISBN 9781480854949
E-Book | 384 pages | ISBN 9781480854932
Available at Amazon and Barnes & Noble
About the Author
After years of living, working and writing in industrial Lowell, historian Mary Blewett presents "The Unforeseen" as an exploration of human feelings and experiences unknown to the archives. This novel, based on her prize-winning study of the New England shoe industry, "Men, Women, and Work" (1988), celebrates the resiliency of the human spirit.