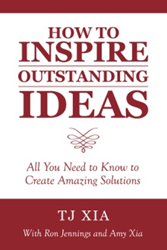 RICHARDSON, Texas (PRWEB) March 23, 2018
TJ Xia has been promoting creativity and innovation for many years to various groups and organizations, using the findings from his extensive study of idea-inspiring approaches. Excited by these meetings, many people encouraged him to put these approaches together into a book. That broad support ignited his book project, leading him to write "How to Inspire Outstanding Ideas: All You Need to Know to Create Amazing Solutions" (published by Archway Publishing).
The book describes a clear set of universal approaches that will broadly stimulate one's creativity, directly leading to discover brilliant new concepts and devise astonishing new solutions. These techniques have been condensed from a decades-long study analyzing several thousand real-life cases that involve inconspicuous yet exceptional ideas.
"In today's competitive society, creative thinking is more valuable than ever in every field. To compete effectively, a person must maximize their ability to think creatively," Xia says. "This book will give them a path to excel. The techniques presented are easily understood, fun to learn, and very useful for helping anyone. For example, it'll help engineers, managers, marketers, researchers, executives, entrepreneurs, and even youngsters open their minds and create exceptional solutions to challenging problems."
It has been Xia's passion to study, refine and promote idea-inspiring methods. He hopes these highly productive approaches will be used by people from all walks of life for them to gain a major boost in their ability to think innovatively no matter who they are or what they want to accomplish.
"How to Inspire Outstanding Ideas: All You Need to Know to Create Amazing Solutions"
By TJ Xia
Hardcover | 6 x 9in | 298 pages | ISBN 9781480851764
Softcover | 6 x 9in | 298 pages | ISBN 9781480851771
E-Book | 298 pages | ISBN 9781480851788
Available at Amazon and Barnes & Noble
About the Author
TJ Xia has been studying and refining methods on how to solve challenging problems and inspire wonderful ideas for decades. He successfully uses his findings from his study, which are presented in this book, to stimulate innovative thinking and enthusiastically shares them with others. He earned his doctorate degree in physics and holds more than 80 US patents. He is a recognized expert in optical communications and an OSA Fellow. He and his wife, Sophie, live in Dallas, Texas.